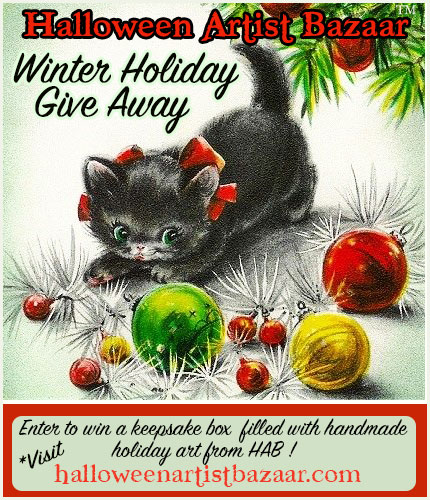 The Halloween Artist Bazaar 2017 Winter Holiday Give Away has concluded!
A winner has been chosen! Thank you for spreading a little holiday cheer!
Check back through out the year for seasonal promotions and give aways from HAB. Let the warmth and cheer of the holiday season stay with you and keep your Jack o Lantern lit!
Happy Winter and much holiday cheer to all!
How To Enter:

Step 1: Visit one of the contributing HAB artist from the list below. If the artist your spreading Winter Cheer to is an Etsy store contact them using the "contact the owner" tab of their shop. If they are on the HAB catalog use our contact form. Leave them a message that states your greeting that expresses how you wish to spread Winter greetings and cheer.
Step 2: Visit our Facebook page and "Like" us and comment your Winter Greeting on our wall.
Step 3: Fill out the official Winter Holiday Give Away entry form below.
Official Rules

Entry deadline is Midnight on December 17th 2017 Central Standard Time. The Winner will be chosen at random. One entry per person. Winner will be notified via email. The prize will ship on December 18th 2017. The winners name will be posted on the Halloween Artist Bazaar website and Facebook page. Information obtained will only be used to contact winner in regards to contest. HAB does not release or sell information from our entry forms or contact page. All ages welcome to enter. Members of Halloween Artist Bazaar are not qualified for entry. Contest open internationally, however please note that prize may not arrive before December 25th due to international shipping delays. *Your countries custom charges may apply. * Prize value an estimated $100.00 (and growing as more is added)
Contributing Halloween Artist Bazaar Artists links where to find their wares in order of photo appearance:(check back as the list grows and photo's of the winnings are posted!)
Twilight Faerie
Sauvage Raven Creations
Gothbunny
Mr. Bony's Nurse
Tarryfails Corner
Harvest Moon Studio
Gallery of photos coming soon!