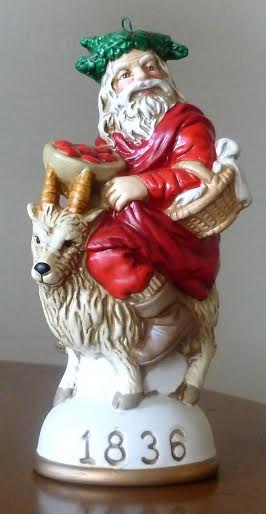 Santa Rode a Goat?
-By Debbi Decker
Every year, right before Thanksgiving, my father would start the holiday decorating, bringing out his vast collection of Santa figurines. These were collectible ornaments that he would stand on his mantel over the fireplace. The figures were based upon legends about St. Nicholas and Santa Claus from all eras and from all over the world. A few of the figures were rather interesting in that they included some of the more pagan elements of the legends. There were figures with wassail bowls, Santa masks, holly crowns, and assorted animals associated with the legends.
One particular figurine that always fascinated and puzzled me was that of a Santa wearing a crown of holly leaves, holding a wassail bowl, and riding a goat. Yes, a goat. I always enjoyed seeing that one, and would make sure Daddy put it in a prominent place on the mantel so it was visible to all. It resonated with me as a Pagan, because the goat, holly, and wassail bowl are all pre-Christian references to older Pagan legends associated with the Winter Solstice season.
This year, I ran across a post by a fellow Halloween Artist Bazaar member (Chad Savage and his annual Creepmas event), that referenced the word "Joulupukki". Curious, I googled the word, and what do you know but here lies the meaning behind that figurine of Santa riding a goat.
Joulupukki is a Finnish word which means "Christmas Goat" or "Yule Goat". While I did not find a great deal of information, it appears that the Yule Goat is connected to Norse mythology and the goat was the animal that pulled Woden's chariot during the Wild Hunt at the Winter Solstice. There are still areas in Finland where older men will dress up as goats and perform for food leftover from celebrations. These men are called "Nuttipukki". I have to say that looking at the images in connection with the Nuttipukki, I can see a very close correlation with the images of Krampus that are becoming so popular now.
The Santa my father owned came in a box with an explanation on the back that focused mostly on the old English custom of Wassailing, stating that the figurine was modeled after a sketch done by Robert Seymour, an illustrator for the Pickwick Papers by Charles Dickens. Nothing is mentioned about the goat other than it being a beloved English custom (!) of Santa sometimes seen as riding either a goat or a donkey. While I did research the Pickwick Papers, I was not able to find the illustration, however, I did run across it in The Book of Christmas by Thomas Hervey, published in 1836 (the date shown on the base of the figurine).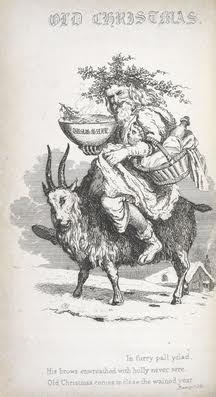 So, there you have it. Santa sometimes rides a goat, and drinks wassail (mulled cider) while sporting a holly crown. I suspect he is the life of any party he attends.
Debbi Decker is proprietor of Crazed Poppet Creations Art & Assemblage Emporium. Check out her artist page to find links to her shop and blog to read more of her writings. Visit again next month for the telling of hauntings and ghostly tales by Debbi Decker.