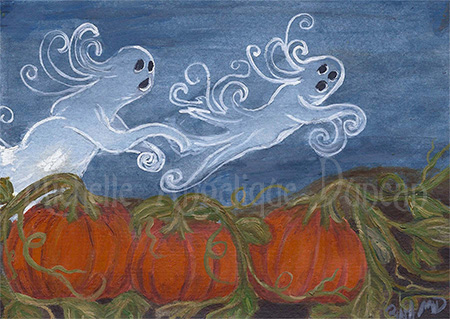 Trick or Treat!
-By Angelique Duncan
Trick or Treat! The practice of dressing in costumes and going door to door for treats is as old as the holiday of Halloween it's self. It survives as a traditional custom in modern times from its origins in ancient Gaelic history and the holiday Samhain.
There are varied yet similar thoughts on why trick or treating has been practiced, however despite region and era, there has always been a common thread; costumed people asking for some sort of treat on October 31st.
The ancient Celts believed that on October 31st a veil was lifted at twilight allowing magical forms of beings to re-enter the mortal world for one night. Some believed that this opening was also extended to the spirit world of the dead as well. In the Middle ages it was thought that ghost were allowed to pass from the "otherworld" through openings in sacred grounds that acted as gateways.
Common practice in the 1400's was to leave plates of sweets and food for faeries and elemental creatures in ones garden or porch. This was done in hopes that passing faerie troupes would take the offerings in exchange for not making mischief or tear up ones crops. This may be the first inclination of sweets used as a bartering tool to avoid tricks.
Spirits who had returned on Halloween night were also left offerings of food. Some documentation from the 15-1600's suggest that folks would leave food for weary souls as they traveled looking for their loved ones. Samhain was considered New Years and it was customary during this era to hold huge elaborate feast. At these feast plates would be set out and a chair at the table reserved for those who had passed away.
Just as departed loved ones could pass through gateways on Halloween night, it was believed that the wretched could return as well. To pacify these ill intended spirits folks would leave sweets on their porches to appease bad ghost to not haunt them and move on from ones home to the next.
The earliest documentation of Halloween costumes comes from the 1600's. Men would dress in scary spirit costumes to scare away evil ghost and enchanted creatures. In return for the service of shooing away the bad spirits to make way for the visiting family ghost, people would offer ale and breads to these men. As the practice grew in popularity some would sing or perform for beer and treats. This became known as "guising". Folks would become opportunistic in the practice and dress as monsters and scary ghost, threatening people's homes with mischief if treats were not given.
In some regions it was customary for men to go "guising" door to door to farms to gather food donations for Samhain feasts. If the farmer obliged then his home would be bestowed with good fortune through the coming year. If He did not, then he would be met with a curse of misfortune.
With the rise of Christianity the churches advocated the celebration of All Souls Day in lieu of Samhain. All Souls Day falls on November 1, or 2nd depending on region. All Souls Day began as a day set-aside for monks to pray for the souls that were trapped in purgatory. The holiday expanded as a day to pray for all souls of the dead. Folks would go to cemeteries and decorate the graves of their loved ones. Not completely willing to let go of superstitions, the practice of leaving "soul cakes" out for the dead became a common practice. Children would go "Souling" through out village's carrying candles or lanterns singing and offering prayers for the dead in exchange for soul cakes. It was believed that when a soul cake was eaten after a prayer a damned soul was released from hell.
As immigrants from Scotland and Ireland migrated across Europe and to North America during the 1700-1800's, the Gaelic Samhain traditions followed. In some regions boys would dress as ghost and demons going house-to-house demanding food and drink otherwise they would wreak destructive havoc and mischievous mayhem. Livestock would be let free from their stockades, crops destroyed and broken windows were common on Halloween night. Although it would be much later in history before the term "Trick or Treat" would be used, the practice of giving treats to ward of "tricksters" was in full swing and in true form of its more modern practice.
The practice of knocking on doors on Halloween night carried on into the 1900's. Halloween was very popular in the 1920's as it lent itself for fancy dress up parties and lavish festive feast that were popular during the era. In England and North America the poor would dress in costumes and go into wealthier neighborhoods begging for money and food. Halloween became known as "Beggars' Night. Soon it became commonplace and children of all ranks would go door to door festively in costumes to receive treats in exchange for not playing pranks. During the mid 1930's the Term "Trick or Treat" was born and Halloween had become a children's holiday.
However during the 1940's with sugar rationing and a generally somber mood created by World War II the festive revelry of costuming and asking for candy became frowned upon and Halloween made a return to Beggars Night. During this conservative era it was believed that Trick or Treating was the practice of poor immigrants and not behavior for dignified, proud American and British children.
After the war ended and the American economy became strong along with upward mobility of immigrants socially, the practice of Halloween parties and Trick or Treating returned in full force. The tradition of knocking on doors in costumes and yelling "TRICK OR TREAT" for candy was the norm. The tricks were not violent and usually took the form of knocking over trash bins, applying dark polish to windows, throwing bath tissue in trees, throwing eggs or other devious deeds of vandalism like smashing pumpkins.
In the late 1980's efforts were made to take the "trick" out of Trick or Treats. Children older than 12 years of age were discouraged from dressing up and going out on Halloween. Adult chaperons were encouraged and churches and retail establishments would host organized Trick or Treat events. Group Halloween parties for children held indoors in lieu of taking to the streets were commonplace. By the mid 1990's virtually all the trick was removed from Trick or Treating and Halloween night had become all about the treats. Trick or treating through out neighborhoods made a come back in the early 2,000's and is holding strong as an annual children's holiday and night of nostalgia for adults and is widely celebrated in the United States and gaining popularity through out the world.
The acts of wearing costumes demanding treats under threat of tricks still exist as an integral tradition to Halloween. As October 31st approaches remember to leave your porch light on and to have plenty of sweets at the ready. For that knock at the door may be a whimsical child out for Tricks or Treats or it may be a wandering ghost or faerie spirit set free to roam on Halloween night.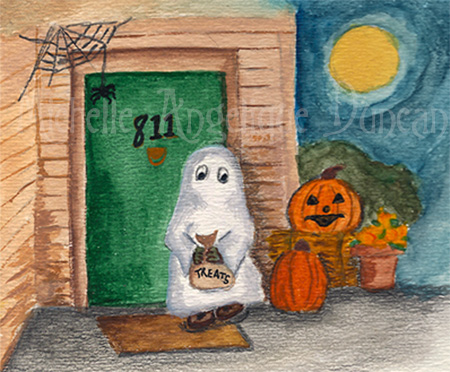 Images "Set free on Halloween" and "Trick or Treat" Copyright Michelle Angelique Duncan
Angelique Duncan is proprietor of Twilight Faerie Nostalgic and Capricious Objects. Check out her artist page to find links to her shops and vintage inspired traditional holiday art. Visit again next month for more traditions and folklore.