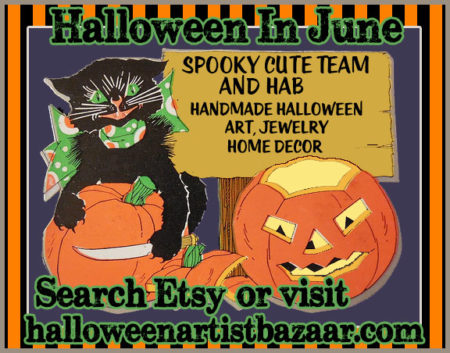 Christmas in July, Halloween in June (Repost from 2014)
-By Angelique Duncan
Most folks have heard the expression "Christmas in July". It usually is used to express a great and unexpected surprise. There seems to be differing opinions and documentation of when the slogan was actually was first actually used. Some historians trace the term back to the 1930's and 1940's to different Christian church entities and clubs in regards to annual events involving decorated trees, gift giving and all the trappings of the winter holiday in the hot summer month of July. First official use of the term "Christmas In July" was from an American movie of that title that was released in 1940. However the concept has much deeper and practical origins.
The notion finds its roots in the Victorian era of the 1800's and early 1900's. The Victorians, despite being quite extravagant in their winter celebrations with in decorations and gifts were also frugal and inventive people. The practice of purchased gifts at the Christmas holiday did not surface until much later in modern history. The Victorians would primarily give hand made gifts. The common practice was for each family member to make a gift for each other member of the family. For this to be pulled off in time for winter, a lot of planning and preparation was required.
Most gifts were made from what one could find in nature or in ones home. The making of gifts and holiday decorations for the home became part of the summer ritual. During the summer months, materials from nature were readily available. Starting the craft projects early in July gave a window of roughly 6 months to complete the projects of sewing, collecting and drying flowers, canning and preserving special foods from the garden, using oils to sent sachets and pomanders and to build collages or paint objects.
The Victorian practice of hand crafting ones Christmas gifts carried over into the 1930's during the Great Depression when resources were scarce. In lieu of purchasing items, holiday gifts were from what one could make from what they had on hand. Later in 1944 during World War II, the United States Postal Service and greeting card industry promoted a postal campaign to collect letters and cards in early July for soldiers overseas to help ensure that they would be received for the holidays.
In the 1950's with rise in incomes and commercialism advertisers for department stores caught on to the phrase to help boost retail sales during the leaner profit months of summer. The idea gained momentum for bargain hunters, who would begin their holiday shopping early in the year. This also allowed for retailers to push out old inventory to make room for the next year's products.
In the years of the 1950's through the 1970's retail marketing of the Christmas holiday season began the day after Thanksgiving, on what is now known as Black Friday. Stores would set Christmas displays and begin their holiday sales for what is considered season of the greatest profits for retailers though out the months of November and December.
In an effort to extend the shopping season and sell more Christmas merchandise retailers began to push the start of the holiday season earlier and earlier each year. The market for winter décor exploded. By the late 1980's retailers would begin to play holiday music and stock Christmas items the day after Halloween. By the 1990's and into the new millennium retailers began putting out their holiday merchandise as early as June and July and have capitalized on the "Christmas In July" slogan in hopes to capture revenue from folks doing their holiday gift and decorating shopping early.
The phenomenon of capitalizing and commercializing holidays carried over to Halloween. With the rise in popularity of Halloween in past decades, retailers have taken notice. Sales of Halloween themed items for home decorating, parties, yard decorations and costumes now follows a close second to Christmas related sales and is gaining.
During the early 1990s and 2000's Halloween entered a surge in popularity in American culture. However availability of quality unique Halloween decorations was limited in the big retail market. Most decorations and costumes prior to the late 1980- 90's were home made. As the desire for Halloween décor that was on par with Christmas decorating grew, so did the market for Halloween art. Small independent artist and individuals who built yard – haunting décor had found their niche. With the advent of the Internet and the growth of an online upstart auction site known as eBay, demand for handmade Halloween soared. An entire market of Halloween collectors was born. One of a kind direct from the artist creations was highly sought after.
As this national love of all things Halloween grew, national retailers took notice and followed suit. The large retail chains began to offer Halloween collectibles, home decor and elaborate yard art that hit their shelves by late August and September. Big retailers honed in on what was offered by the independent online sellers and created an entire industry of Halloween retail revenue.
Sales of Halloween themed collectibles for home decorating, parties, yard decorations and costumes now follows a close second to Christmas related sales and is gaining. With this popularity of Halloween, retailers now set out mass-produced Halloween items as early as July, often along side the Christmas wares. This has drastically hurt the profits of small independent Halloween artist and yard haunters who once enjoyed a reliable fall retail season for Halloween sales.
From this history a campaign of Halloween in June was born. Independent artist Julia Chibatar proprietor of Ghostgap had the idea in 2013 to create a month dedicated to Halloween outside of it's traditional month of October as an answer to the commercial concept of Christmas in July. Halloween in June is a month long celebration of all things Halloween with particular emphasis on independent Halloween Artist and their handmade wares. The celebration is a combined effort of Halloween groups comprised of independent artist to raise awareness of the small retail businesses and artist who gave origin to the Halloween retail phenomenon. It is an opportunity to showcase one of a kind handcrafted works available for purchase direct from the artist before the onslaught of big retail Halloween hits the shelves.
Halloween in June is presented by Spooky Cute Etsy Team
Halloween Artist Bazaar Artist Group .

Angelique Duncan is proprietor of Twilight Faerie Nostalgic and Capricious Objects. Check out her artist page to find links to her shops and vintage inspired traditional holiday art. Visit again next month for more traditions and folklore.