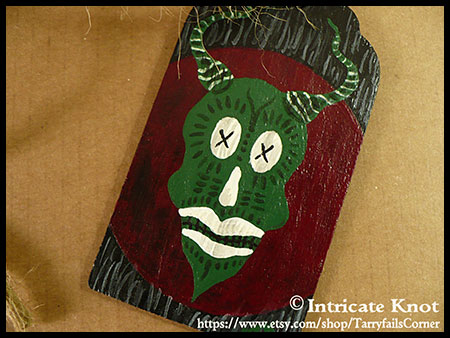 To find where Intricate Knot sells her wares visit her on her artist page on HAB. 
Interview with Intricate Knot of Tarryfails Corner:
Which pieces of your artwork are you most proud of, currently for sale or sold? Share an image of it if you have one.
I'm most proud of my set of Three Black Kitties: Eenie, Meenie, and Mynie. Beware. These guys may look cute and harmless with their lollipops and Trick-or-Treat buckets, but I have it on very good authority that Mynie and Meenie are evil masterminds. And Eenie? Eenie is a super evil mastermind, playing his brothers with a gusto generally not seen outside Fish & Chips Night at Mac's Evil Kitty's Eatery.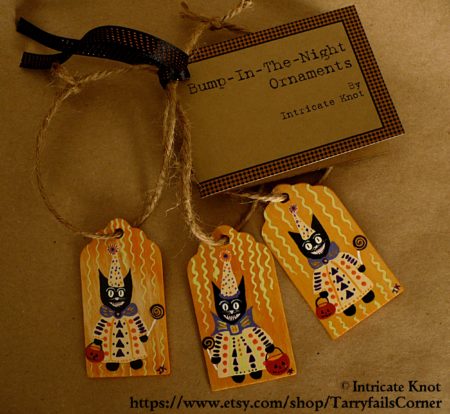 Name an artist(s) whose work you admire and what influence have they had on your art?
Edward Gorey. When I was a kid I went to the library after school and poured through every Edward Gorey book I could find. Seeing his work made me realize that I wasn't the only weirdo in the world. There are lots of us. We're all one big weirdo family!
What would you consider the highest honor or greatest goal you would like to achieve with your art?
I would love to make a good living with my art and writing. One day, (I hope!) that will be the ultimate achievement for me.
What Halloween costume that you got to wear in childhood was your favorite and has the fondest memory for you?
It wasn't until I was older that I really got to let loose on Halloween. My fav costume was one I put together for my son when he was little. He loved The Terminator (original film). I had a really cool black leather jacket and then made up his face with make-up skin putty, fake blood, and aluminum foil. It came out really good! And my son had a blast.
What is your favorite Halloween icon? Why do you identify with its imagery?
Candy. Hah! Just kdding (not really). Hard to choose one. I love it all: Ghosts, Jack O' Lanterns, witches, vampires, devils, and scarecrows. I supposed if I had to choose, it would be the witch. Love them so much I became one. Witches are mysterious, powerful female icons. We've been subjugated, ridiculed, imprisoned, and burned at the stake. Yet, the witch still stands. And still thoroughly enjoys all the wonders of Halloween.
If money and wherewithal were not an issue, what would be your dream way to spend Halloween?
All sorts of cool events take place worldwide: Haunted walks and underground tours, witches balls, ghostly hotels, cemeteries, and fun sites! If I had the money every Halloween I'd visit a new adventure and take a few of my fellow haunted friends with me.