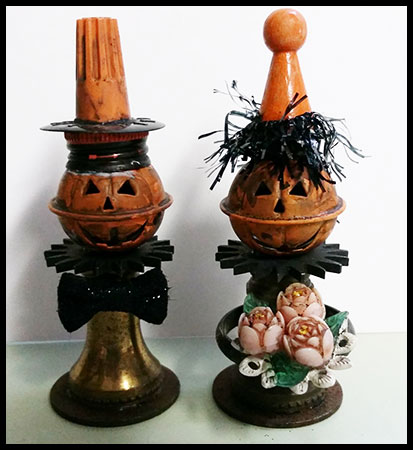 To find where Barb sells her wares visit her on her artist page on HAB. 
Interview with Barb Rondello-Butcher of PunkinPrims:
Which pieces of your artwork are you most proud of, currently for sale or sold? Share an image of it if you have one.
I am most proud of the pieces that got into Somerset Studio Gallery Magazine. It was a dream of mine to get in one of the Stampington magazines. (see photos)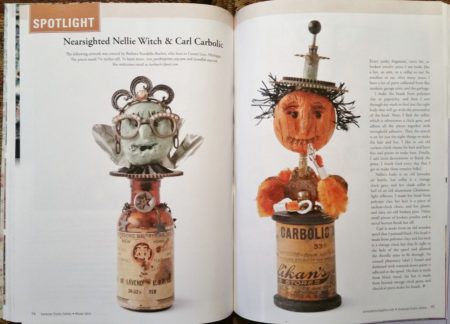 Name an artist(s) whose work you admire and what influence have they had on your art?
Well my most favorite artist really has nothing in common with my art, but Norman Rockwell was amazing. I have studied (which means poured over and looked at all details) of his amazing paintings. Not only is every little detail perfect but are they are amusing and capture our human condition.
What would you consider the highest honor or greatest goal you would like to achieve with your art?
It is an honor that people love my folks. That they come back for more and have "collections" of them!!
What Halloween costume that you got to wear in childhood was your favorite and has the fondest memory for you?
My parents had his and her costumes of prisoners. They were black and white striped with a matching hat. I remember watching them leave to go to a party with them on when I was a little girl. When I got big enough to fit into one I wore it and loved it!!
What is your favorite Halloween icon? Why do you identify with its imagery?
I love all of Halloween icons. I am not into scary/gorey tho. I like whimsical happy Halloween.
If money and wherewithal were not an issue, what would be your dream way to spend Halloween?
If I had the money I would totally transform my house each year. I have more Halloween decorations than Christmas now, but I would totally transform the house inside and out!