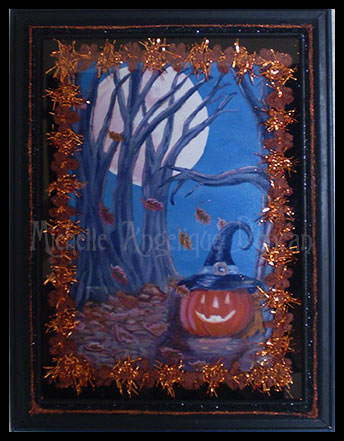 To find where Twilight Faerie sells her wares visit her on her artist page on HAB. 
Interview with Angelique Duncan of Twilight Faerie:
Which pieces of your artwork are you most proud of, currently for sale or sold? Share an image of it if you have one.
I am most proud of "The Great Pumpkin of Sincerity". It is a 16×20 acrylic painting on Bristol board. This was the first piece I painted with the intent to put out in the public sphere to sell. I have been painting my entire life, however as a lot of artist do, had trepidation about selling my own paintings. I entered the piece in the Faces of the Great Pumpkin Art Contest 2013 held by Cult of the Great Pumpkin, figuring the best way to get over my hesitations to put my paintings up for public scrutiny was to put one in a contest judged by the public. It didn't win, but I am grateful I entered the piece and still very proud of it. Since painting the Great Pumpkin of Sincerity I have continued to paint and have several paintings and prints for sale along side my vintage Halloween and floral work. I am never happier than when I am painting.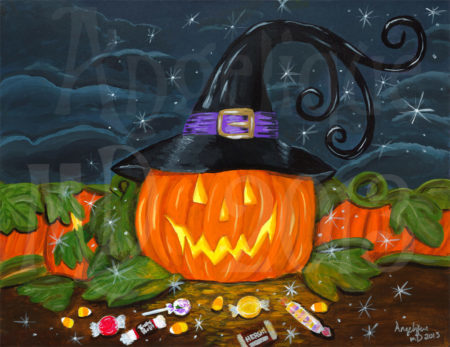 Name an artist(s) whose work you admire and what influence have they had on your art?
The influences on my art come from old storybook illustrations and the (now) vintage greeting cards I used to receive as a child. I love the imagery of animals and Halloween creatures living a parallel world to ours. The artists whose work I admire the most are Arthur Rackham and Beatrix Potter. In my opinion, they are the masters of children's art, color and mood. I could only hope to be able to capture a tiny sliver of the imagery they have created.
The greatest influence on my work is the illustrators of Halloween greeting cards from the 1970's. Unfortunately, given the temporary nature of art used for greeting cards as mere ephemera, many of these artists never received notoriety in the art world and their names are obscure. The imagery of those cards has always stayed with me; jovial scarecrows, prissy sweet faced black cats, wide-eyed ghost and grinning Jack o Lanterns. It was an era of Halloween imagery that was friendly, whimsical yet still had a tinge of spooky and I try to emulate that style in my Halloween art.
In the realm of modern Halloween art, I am tremendously grateful to Heather Gleason of My Eclectic Mind for having discovered Twilight Faerie way back in the day and encouraging me to sell online and to challenge myself to always strive to do greater things. Her work is magnificent and inspiring.
What would you consider the highest honor or greatest goal you would like to achieve with your art?
The greatest goal for my art is for some one I have never met to be so compelled to want to hang or sit my work in their home. If a person looks upon one of my pieces and feels as fondly and attached about my art as I do the art and decorations in my own collection, then I have contributed to some ones happiness and to me that is the highest honor one can achieve with art.
What Halloween costume that you got to wear in childhood was your favorite and has the fondest memory for you?
The fondest memories from childhood of a Halloween costume are of a witch's hat I had when I was about five years old. To me it was the most beautiful magic hat there ever could have been. It came from TG&Y, a discount store that has long since closed its doors. The hat was made from a glossy black-coated cardstock with a ruffle on the edge that was made from black crepe paper with a silver foil trim. The hat had a large moon with a cat arching it's back surrounded by stars painted on with shiny silver glitter. I loved that hat. I wore it proudly several Halloween nights years in a row, until one Halloween it was drizzly and damp and miserable for trick or treating. I wore my hat, not realizing paper and rain were not a good mix. The hat was destroyed.
Years later, when I was in my early 30's, I found the exact same hat in a lot of vintage Halloween items at five and dime store in the Village in West University Place in Houston. (another cool store that has closed forever). At the time the original hat I had as a child was maybe $3.00 at most, I paid $25.00 for the new one but it was money well spent to have that hat again. It is now a part of my Halloween decorations that are displayed each year…and yes I have been known to wear the hat around the house gleefully as I decorate!
What is your favorite Halloween icon? Why do you identify with its imagery?
My favorite Halloween icon is the Jack o lantern. The Jack o lantern is the quintessential ambassador and embodiment of all things Halloween. I like to believe that every time a pumpkin is carved into a Jack o lantern and a lit candle is place inside its cavern, that pumpkin has fulfilled its Halloween destiny. Each grimacing, grinning silly or scared faced pumpkin lit by candlelight is keeping the spirit of Halloween alive through the ages.
If money and wherewithal were not an issue, what would be your dream way to spend Halloween?
I have had some very happy Halloweens in my lifetime. I have loved them all whether it was trick or treating as a child or throwing a huge Halloween bash in adulthood or just handing out candy to kids.
If money were no object my dream of the perfect Halloween would be to throw a huge Halloween extravaganza of a party surrounded by folks who share the same enthusiasm and reverence for the holiday. Everyone would have extravagant costumes and every corner would be decorated in orange and black and Halloween bric-a- brac. There would be a decadent Autumn feast with overflowing bowls of baked sweets and candy for desert and never ending pumpkin ales and honey mead. We would have a carved pumpkin contest, silly parlor games and fortune telling. While this party was happening there would be a constant stream of raucous kids Trick or Treating at the door. Outside there would be a fire pit where folks could sit around and tell ghost stories under full moonlight. In the woods would be a decorated haunted trail for folks to meander through with lanterns. To finish the celebration there would be a costumed Halloween parade through the street with all the neighborhood children. That would be a Halloween night for the ages!