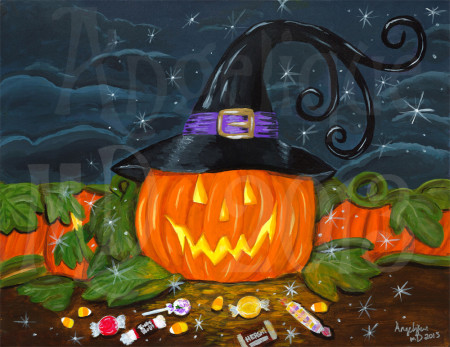 To find where Twilight Faerie sells her wares visit her artist page on HAB. 
Interview with Michelle Angelique Duncan of Twilight Faerie:
What inspired you to start the Halloween Artist Bazaar group?
There are those who are Halloween people. At some point they fell in love with that day that falls on October 31st. For them Halloween isn't just a holiday that comes once a year and then it is done. For Halloween people it is part of who they are. They surround themselves with, and some have a passion to create, Halloween. Halloween Artist Bazaar was started to preserve the spirit of Halloween for those people who create and those who collect. What we do is a very special niche in the art world.
You are guiding this group into being much more than just an Etsy team, where do you see HAB headed?
Halloween Artist Bazaar was never intended to be Etsy-centric. When the group was formed it just happened that a lot of contemporary Halloween artist were selling on Etsy. Forming an Etsy team for the group made sense as a valuable tool. Halloween Artist Bazaar was always intended to be a cross-platform group with members who sell from all kinds of online venues and our own selling catalog. I hope that HAB will be able to establish itself as an online shopping catalog where Halloween collectors will find one of a kind handmade Halloween works that embody quality craftsmanship, unique character and sincerity.
What is your fondest Halloween memory?
I can not say there is only one fond Halloween memory, more of an amalgamation of Halloweens from childhood. Growing up in the 1970's Halloween was a big deal in my neighborhood. Nearly the whole neighborhood participated. All the houses would be decorated with a least a lit Jack o Lantern or a sheet ghost. Kids and grown ups all dressed in elaborate costumes, most of them home made. At dusk the streets would fill up with the excitement of trick or treaters, screams and music could be heard from makeshift yard and garage haunted houses. It was as though the entire neighborhood magically transformed into something different and we were all celebrating on Halloween.
How do you celebrate Halloween?
I used to throw elaborate Victorian style costume parties complete with silly party games, costume contests and an Autumnal feast. My situation is different now, so gone are those days.
I still dress in costume, usually as a cat. The yard gets decorated and house get decorated. We carve pumpkins and I bake Autumn treats. A few friends will come by for the evening. We burn a fire in the fire pit, grill sausage wraps on the smoker and give out bottles of water to neighbors who stop by. There is a huge bucket I fill with candy and hand out to kids. My rule is to get the candy the kids have to yell TRICK OR TREAT as loud as they can, and they must have on a costume of some sort. We host a food drive on Halloween night where folks can drop off donations in big decorated boxes that I set out in the yard. The neighborhood I am in has a lot of kids and some years we have a huge turn out. Most of the houses are decorated and folks hand out candy.
When did you start creating in your medium and what training have you had?
My family was filled with artistic people, so I was always around art and art supplies. There isn't a time I remember in which I wasn't drawing, cutting paper or gluing glitter on to things. I received a lot of instruction from my family when I was very young. I took art classes through out junior high into college. My floral work comes from 15 years in the floral industry; the decoupage comes from a love of cutting and gluing. The joke I make is that the floral work supports my glittery Halloween habit. Even when I was very young I painted; however, it wasn't until 2014 that I finally got brave enough to try and sell the paintings. I created Twilight Faerie and started selling the Halloween and floral pieces in 2003.
What was the inspiration to create what you create and when did you know you wanted to create Halloween?
The inclination to create Halloween came back when I was nine years old. Deciding the household did not have nearly enough decorations (and my parents didn't see the necessity of buying more), I decided to create my own to hang about.
There were tissue paper ghost and construction paper bats that dangled from yarn and paper Jack o lanterns with cut out tissue eyes that hung in the windows. I had started constructing a scarecrow from scratch. He was drawn in pencil and colored with watercolor markers. He stood about 4 feet tall and his head arms and legs where cut out and attached to brads so that his joints would move. Making these decorations for the house became a huge project that lasted for three weeks building up to Halloween night.
The scarecrow was an undertaking. It took me a very long time to get him just right and time was running out. I worked feverishly as soon as I got home from school that Halloween to get him finished to hang on the door before the trick or treating started. Somehow I felt he had to fulfill his Halloween destiny and be displayed before dusk. It was that Halloween, when it got dark and I was hanging the scarecrow on the door that I knew some day I wanted to do something to contribute to the world of Halloween.
All my life I have loved Halloween and the imagery of folklore and fairy tales. I was inspired to create ornaments and decoupage pieces as a way to preserve the imagery that is so dear to me. I didn't want those magical images to be lost to the world. It was as if the images from the past had to be put out in the world for another foray. Back when I started there were only a handful of Halloween artist and only a scarce few who where creating pieces from vintage images. The paintings I paint echo that love of Halloween and fairy tales; there is always a need to get the images that frolic around in my head to paper and out to the world. I suppose I am hoping that Halloween and whimsical imagery might mean as much to others as it does me, and might give those images and creations life that is passed down through generations to come.