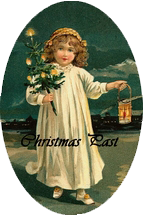 Come to the Dark Side. We Have Yule. -By Debbi Decker
Although the holiday season of Yule is generally associated with birth and light, the original festival as celebrated has a much darker side. Celebrated by Germanic peoples (the most familiar will be Norse and Anglo Saxon) in pre-Christian times, Yule not only encompassed feasting, reveling, and celebrations, it also featured death, sacrifice, and ghosts.
Yule was primarily a midwinter observance during the months of December and January, which, over time, was incorporated into the Christian celebration of Christmas. Some familiar practices that have come down from this observance include the Christmas ham (the Yule boar) and caroling. Some of the not so familiar Yule customs and beliefs are as follows.
With December 21st comes the shortest day of the year and along with that comes the Wild Hunt. It is believed that the Wild Hunt comprises demons or dead fairies, ghosts of former huntsman or the undead, called Drauger (possible zombie references here), raging across the sky in search of dark secrets and souls. It was considered most unlucky to see the Wild Hunt, and many lit fires or candles to keep the Wild Hunt at bay as the light would repel the dark and the spirits that reside there.
Christmas Eve as we know it was originally celebrated in January and was known as Mōdraniht, which is old English for Mothers-Night. This celebration references "dis" or spirits of fates. Sacrifices were made on this night and many practices centered around fertility rituals to ensure a bountiful new year to come as well as to celebrate the fertility of tribes.
Aspects of modern day Christmas festivities can be traced back to the reverence of the Norse god Odin. The ham we eat is a reference to the boar with an apple in its mouth. The Yule log is burned to revere the departed souls and also to keep the darker side with its ghosts and demons and ghouls at bay. And again, another aspect of the Yule log may be phallic in nature as the ashes were sprinkled in the fields to bring fertility to the coming harvest.
So, this Yule season, light your candles and Yule logs and keep the darkness and all it encompasses away. Pay tribute to your ancestors, and most importantly, if you hear a huntsman's horn on Christmas night, remember to stay inside. If not, you might be carried off to the darker side of Yule.
Debbi Decker is proprietor of twistedpixelstudio Art & Assemblage Emporium. Check out her artist page to find links to her shop and blog to read more of her writings. Visit again next month for the telling of hauntings and ghostly tales by Debbi Decker.