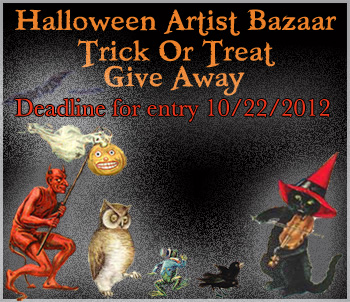 The Halloween Artist Bazaar Trick or Treat Give-Away has concluded.
The winner has been chosen! Congratulations to Natalie Adair Butler,winner of the Trick Or Treat Bucket brimming with Halloween art and treats from Halloween Artist Bazaar contributing Halloween artists!
Thank you to everyone who entered the Halloween Artist Bazaar Trick Or Treat Give Away 2012. We had a lot of fun hosting this contest and we appreciate all the Trick Or Treaters who visited our shops and Facebook page. The winner will be notified via email on October 23,2012.
Visit us again as we will be hosting more group contest and give-aways in the coming months. Have a Happy Halloween and many great Trick or Treating adventures!
Contributing Halloween Artist Bazaar Artists:
Twilight Faerie
Janis Logsdon Jewelry and Art
Ghost Gap
twistedpixelstudio
Cards For A Gloomy Day
Art By Sarada
Soiled Dove's Mercantile
Tara's Haunted Halls
Jynxx Designs
Sauvage Raven Creations
Spiderwood Hollow
Moonspell Crafts
Amy Sue Crafts
The Felted Fae
Magic Mirror Fairy Tale Store
Chaos In Color
Holiday Hijinks
Tahoe Snow Bunny
Midnight Jamboree