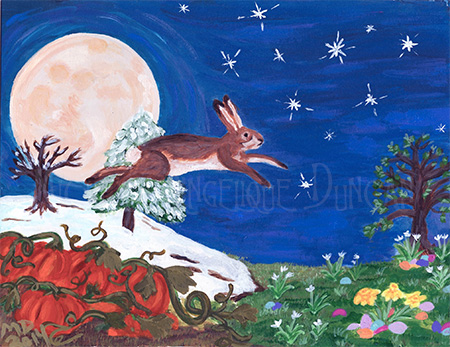 The History of Hares-By Angelique Duncan
Most folks are familiar with the magical bunny who delvers eggs on Easter morning. However, rabbits and hares have long history with enchantment and mystic symbolism outside of the annual spring holiday.
Depending on the culture the hare represented life itself and was the ambassador of sorts to Mother Earth. It was believed that hares were the companion of the White Goddess or the Earth Mother and thus held in high regard among the animals. The hare has been used symbolically to represent the cycles of the seasons, the moon cycles, rebirth and redemption as well as serving as a symbol of existence. In multiple cultures they represent love, fertility, abundance, growth and good fortune.
There are many connections between the hare as the chosen companion to different Goddesses. It was believed by the Celts that the Goddess Eostre animal spirit was a white hare and that on a full moon she would transform into a hare herself. The Norse Goddess of love and sensuality Freyia, traveled in a chariot drawn by cats and rode with a boar and a hare. The tradition of releasing a hare before battle comes from Boudicca, queen of the British Celtic Iceni who is recorded as doing so for good luck and to determine the battle plan by the hares' movements. In ancient Germanic paganism the Earth and Sky Goddess Holda, leader of the Wild Hunt and creator of weather phenomenon; is said to have been followed by a procession of torch bearing hares.
It was thought to eat a rabbit would be to devour a Goddess. The female association with hares went further that many believed that wise women of their villages would shape shift into hares under moonlight. Some thought that when elder wise women passed away that their souls became hares that would represent and communicate with Mother Earth relaying messages to humans. Therefore consuming the meat of a sacred hare was the equivalent to eating someone that one might have known or perhaps ones own mother or grandmother.
The Celts and Teutonic peoples believed that rabbits and hares would keep borrows underground because they had the ability to commune with the Earth. Some beliefs stated that hares could communicate with dead and carry messages back and forth from both the human world to the dead world of the spirits and also to the magic faerie realm under the ground. It was thought that rabbits were impervious to evil and offered protection. They were often kept as a pet for that reason. From this mythology came the practice of *carrying a rabbit's foot or part of a departed rabbits pelt to ward off evil spirits. To carry a rabbits foot would prevent kidnapping by faeries and prevent one from taken underground to the spirit world.
Hares were used in woodcuttings and religious art by the Christian church to persuade Pagans and followers of Goddess religions with familiarity of symbols. However the hare was seen as too virile and aggressive an animal by European Christians and was eventually phased into the less aggressive, meeker rabbit. Some historians believe this was a very intentional measure of symbolism in art to psychologically undermine the once powerful and magical creature to Pagans. The Rabbit became the symbol of springtime celebrations and associated with renewal given to the world by Christ. The White hare once companion with Ostara and the Goddess Eoster was replaced in imagery of the Madonna holding a white virginal bunny. It was believed that bunnies could become pregnant without conception from a male and hence became associated with the Virgin Mary.
As Pagan religions declined and Christianity spread rabbits and hares became associated with negative connotations and superstition. Like cats and foxes they were believed to be witches familiars. The belief that women could shape shift into hares under moonlight shifted to a myth that rabbits and hares were actually witches. The behaviors of hares helped to feed this notion. Hares can scream when in distress that sounds like a human wail. They also have the ability to stand on their hind legs for extended periods. Although they are mostly solidary and nocturnal; they will gather in a drove during daylight in the spring and dance and box upon their hind legs. This behavior was thought to be witches convening for an equinox meeting. The animal once associated with luck was feared as a bad omen if it crossed ones path. Fears of rabbits and hares were further fueled in North America for their heavy use in Hoo-Doo rituals and African American folk beliefs.
As spring approaches and fluffy bunnies and rabbits emerge take note their heritage that they were once the companions of Goddesses and messengers of the faeries and Mother Earth and quite possibly someone's departed wise grandmother. Remember that the rabbits and bunnies represent the majestic and magical hare and bring you spring tidings and maybe a little good luck.
*In modern times with awareness of animal rights and protections of species please refrain from carrying the foot severed from an actual rabbit. Faux rabbits feet are available and carrying a talisman with the representation of a rabbit can also serve to bring you good fortune.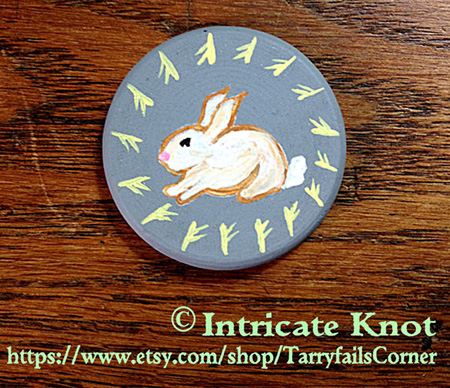 Illustration "White Rabbit-Spring Ostara Miniature Art – Pocket Charm" Copyright Intricate Knot. To more of Intricate Knots art and where to buy visit her artist page Art For A Gloomy Day.
Illustration "Jumping to Spring" Copyright Michelle Angelique Duncan. To see more of Twilight Faerie's art and where to buy visit her artist page Twilight Faerie Nostalgic and Capricious Objects.
Angelique Duncan is proprietor of Twilight Faerie Nostalgic and Capricious Objects. Check out her artist page to find links to her shops and vintage inspired traditional holiday art. Visit again next month for more traditions and folklore.