A Tale of Winter
By Intricate Knot
"Just as Spring needs the Faeries,
Winter must have her Wizard.
For who but a Wizard could make all those varied and wondrous snowflakes?
Keep up."
~ Intricate Knot
Prologue
When last we left our heroes and esteemed members of the Great Holiday Making Tribe, Fiddler and Wilbur (after a bit of schooling by Fizzy) had made up with Glassy. In turn, Glassy led them to the Faeries, Aloysius, Artemis, bunny helpers and fall assistants, flowers and pumpkins! Everyone was (and still are) back where they belonged, everyone of course except the villainous Diavix Clop, who sadly is still hiding somewhere in the Forest. Not where he belongs at all…

Winter had come in its full Magickal and icy force. Yule also came and a merry time was had by all. But from there things went a bit doolally…
The New Year should have begun, but somehow didn't. Storms of rain and snow should right now be drumming and thrumming, sprinkling and crinkling throughout the Forest. But that's not what's happening!
For as suddenly as winter had come, it left. More baffling, it had left without a seasonal bridge between it and summer. Begging the Shakespearean question,
"What fresh madness is this?"
Fiddler, our fine, sleek, musically inclined feline and Wilbur, our coal feathered, grumpy, Magickally disposed owly-raven pondered this and many other questions. For they now had not only one but two mysteries to solve in the Forest. How is it possible that winter left so quickly? Without a sign, hide, nor hair? Usually the snow began to melt, exposing the earth, dark brown and fertile. In turn the slumbering earth awoke letting her hair down…or up (so to speak) by sending out tiny green shoots sprouting upwards to reach for the sun. Bare limbed trees yawned and stretched, their branches tingling with fresh leaves. Leaves steadily growing by the hundreds and all to be gloriously full blown just in time to bring much needed shade for the coming heat of summer.
Not so this year! One day there was snow on the ground with temperatures well below zero. The next day the ground was covered in tall, golden grass…summer grass. And not the summer of June, but the full-heated-swing, the tip most peak of summer: August. What of spring? And where did all the lovely fruit go? What's summer without peaches and cherries? Apples and blueberries? A day feels far too long and hot in the summer without fruit pies to share with your friends!
Our heroes pondered while Fiddler dangled his smart red fishing pole and Wilbur dipped his very fine claws at one of their very favorite thinking spots, Thoughtful Pond. Every Forest should have one. If yours doesn't, please go out and get one immediately.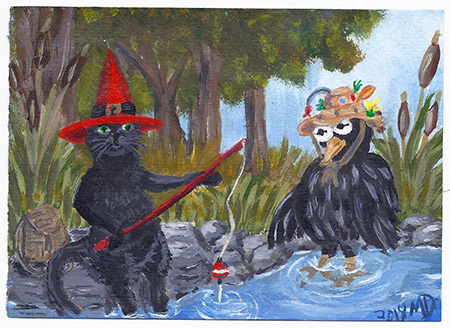 "It can't be a coincidence," Wilbur said firmly.
"Indeed, it cannot," Fiddler agreed. "But how is it possible that Diavex has hidden from us for this long?"
"However and wherever he is, one thing is becoming clear."
"Which is?"
"Diavex doesn't like the cold."
"Hmm…" Fiddler pondered. "Well that is something we can use to our advantage. Come on Wilbur, we have someone to see." In the way of cats, Fiddler had leapt from his sitting position and was already halfway down the path before Wilbur had time to pull his claws from the pond. That was fine with Wilbur, though. Being such firm friends, he was quite accustomed to it.
Puffing a bit when he'd caught up with Fiddler,
"Who-who are we-e going to see?"
"The Winter Wizard, I think we need a bit more snow in our Forest, don't you?"
"Absolutely! Good old Crimson, why we've not seen him in-"
"Years."
"Since-"
"Yep. Since-"
Wilbur slowed his pace and fell silent. When Wilbur went silent it was palpable.
"What?" Fiddler shrugged. "Crimson has no reason to be upset with us."
Wilbur merely grunted and then stopped in his tracks. Fiddler had breezed past five wise oaks before he realized that his pal was no longer beside him. Silkily, he turned and meandered his way back,
"Okay. You're possibly right."
At Wilbur's look, Fiddler gave a great sigh,
"Yes, yes. It is possible, perhaps even probably that Crimson could be a tiny bit annoyed with us, but that's not really the same as being upset." Now, Fiddler didn't exactly huff. Huffing isn't something cats do, per se. Cats are very good at oozing frustration though, and Fiddler oozed with the best of them.
"Again with the 'look,' Wilbur? Please speak your mind."
They knew one another well, these two. Right now Wilbur knew that Fiddler bordered on annoyed, which is very Un-Fiddler-Like. He knew he needed to tread lightly. Crimson was one of Fiddler's most favorite of souls.
"I see three possibilities right now," he began softly. "One, Diavex has somehow coerced Crimson into helping him. Two, Crimson is in league with Diavex Clop. Or three, something happened to the Forest's Winter Wizard suddenly. So suddenly that there's not been time to replace him."
Fiddler sat back on his haunches.
"Any of which explains the lack of segue in our seasons." It was Fiddler's turn to fall silent.
Being a true friend through and through, Wilbur knew when to talk, when to jab, and when to be still. Stillness was called for here. So, he just sat right down next Fiddler to wait for him.
Wizards are of course revered in the Forest, and there are so very few left. If one were to fall, well, it is quite possible that there wouldn't be a replacement. But to replace Crimson? Fiddler couldn't conceive of it. Yes, Crimson was particularly special to Fiddler.
Everyone should already know this, but in case you've forgotten, every cat (and every owly-raven for that matter) must have a Magickal Mentor. Crimson had been Fiddler's. And like a revered parent, one's mentor will always claim a special place in one's heart.
Crimson being gone, was not an option. Could he be in league with Diavex? From what Fiddler could recall…well hmm…actually, that wasn't a lot to recall. Crimson had not been forthcoming on his relationship with the insidious Mr. Clop, but yes, Fiddler sensed there had been something there…a previous encounter. Though he knew nothing solid, he knew this, Crimson would not knowingly, willingly, or otherwise purposefully aid Diavex Clop. It would be against the Forest and Wizard code.
And with that Fiddler stood and nodded firmly,
"I am not prepared to believe that Crimson is gone from the Forest by design or cause. You could be right and it may be that he has been coerced into helping Diavex. But a fourth possibility occurs to me, perhaps he was taken by surprise and Diavex somehow imprisoned him."
Wilbur stood up and dusted off his feathers,
"Either way then, he needs our help. Let's go."
To be continued next season!!

Illustration "Thoughtful Pond" by Angelique Duncan. Appearance of Wilbur with permission of Intricate Knot.
Illustration "Flourish" by Intricate Knot.
Intricate Knot is proprietor of Art For A Gloomy Day.Check out her artist page to find links to her shop and blog to read more of her writings. Visit again next season for more adventures of Fiddler the cat and his best pal Wilbur.