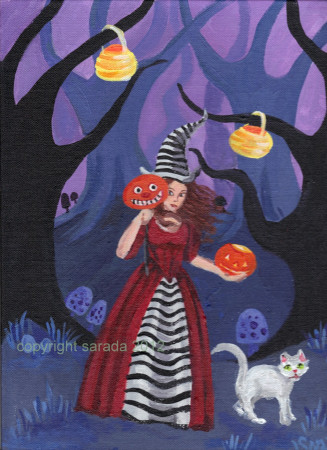 To find where Art By Sarada sells her wares visit her artist page on HAB. 
Interview with V. Sarada Holt or Art By Sarada:
At what age did you discover your love of Halloween?
I can't remember a time when it wasn't my favorite holiday – having a birthday about a week after Halloween, they always kind of went together as festive, fun time of year. I conspired with my grandmother every year to figure out what my costume would be. I remember the first costume that was my own conscious choice, when I was around four, was a witch. I also made sure to get both princess and fairy princess in at an early age as well. After that, you could say that it was fandom based! I was born in 1973, so childhood was the 70s and early 80s, and there was some Princess Leia in there, a cat from the musical "Cats," and even a character from the anime show "Star Blazers" – which no one else recognized, I'm sure. While it was all about costumes and candy during those years, I think I was born to love horror movies as well. My parents had been big fans of Hammer Horror and other 1960s and early 70s horror movies – I grew up watching them on TV on Saturday afternoons during the "Creature Double Feature" on a local TV channel. The fact that there was a time of year – around my birthday, no less! – devoted to these kinds of pursuits, AND dressing up, was more than I could handle.
What is your fondest Halloween memory?
It's hard to say, as the actual day of Halloween itself has always revolved around just being home, trick or treating, or greeting trick or treaters. In recent years I have a new tradition that I love to indulge in, which is watching weird old horror films with my husband until we can't stay up any longer. We joked about it for weeks, with me promising him that we'd stay up "'til 6 a.m.!" watching our favorites. Typically this includes a vampire film by the French director Jean Rollin, a favorite Hammer or Vincent Price movie, and maybe a gothic Italian film from the early 60s. I don't think I've made it until 6 a.m. yet but I manage to get about five movies in most years. Last year we went to the Museum of Funeral History here in Houston on Halloween as well, which was a nice touch. Every year Halloween gets better than the one before, even though we mostly just stay around the house, it is always special.
How do you celebrate Halloween?
On the actual day of Halloween, it's not too much different from any other, around here. I've never had kids, so I don't get to experience trick or treating from that side, but I love to drive around neighborhoods to see how everything is decorated, and hand out candy at home or at a friend's house. Then we have our movie marathon, as I noted above. My year-round wardrobe tends to include plenty of Halloween themed fabrics that I've used to make things for myself, when it's not just all-black clothing to begin with, but I always go the extra mile on Halloween. It's funny, because I don't do much in the way of decorating or going all-out with festivities, because I feel like I live in a Halloween mindset all year round. We usually spend the entire fall watching favorite horror movies, aside from the big night itself, and I read lots of Victorian ghost stories in the weeks leading up to it. I just like to revel in that time of year, and the fact that for about three months you can go into stores and they will be full of bats, cats, spiders, moons and witch hats.
When did you start creating in your medium and what training have you had?
I started painting in 1986, after spending my entire childhood drawing fantasy creatures and images. I was inspired largely by my love of Dungeons and Dragons, at that point, and fantasy in general. I started to paint with acrylics, focusing on dragons, fairies and the like. I used acrylic paint, and was entirely self-taught, though of course I had a couple of elective Art classes in high school. I took a couple of classes in college as well but did not enjoy taking art as a subject. I liked taking art HISTORY, but as for hands-on creative work, I was more interested in just finding my own way. I experimented with oils as well and have used them more in recent years. I'm very much in favor of people seeking instruction and training in their chosen art form, but I enjoyed finding my own way, experimenting based on what I saw in other peoples' work, since I was doing it mostly for my own amusement, and not as a professional pursuit.
On a side note, one of the main inspirations for me to start painting was a woman I met at a mall art show near my childhood home in central New Jersey, I think around the summer of 1986. Amidst all of the landscape and other decorative paintings on display was a booth where a woman was painting a purple dragon on a misty mountaintop. Her paintings were all on similar themes – fairies, dragons, angels, magical women. Her name was Ann-Marie, and we corresponded for some time after that, as she encouraged my interests. I took the same kind of themes as my favorite subject matter in my teens and was very influenced by her self-taught style and approach. I bought a number of her prints over the years as well and I still admire the detail and unique, original style she developed. Seeing someone paint up close and in person like that, and being able to see all of those paintings that were so close to my heart in their themes and inspiration, really gave me a huge creative push that has never gone away.
What was the inspiration to create what you create and when did you know you wanted to create Halloween?
After college, my painting pursuits trailed off a little as I felt my subject matter wasn't going to be taken seriously by anyone. But I put a few little paintings on eBay when I started selling odds and ends from around the house, on that site around 1999, and the reception was pretty warm. I had started to collect antique Halloween postcards from the early 1900s around then and was captivated by the imaginative imagery. It occurred to me that I could make new versions of these kinds of images, and that proved to be fodder for art for years to come. I've continued to explore other themes that I love, including fantasy, surrealism, nature, gothic and ghost imagery and other subjects, but I always come back around to Halloween. I like to do things that are cute, but not cutesy. I love a colorful, bold palette with classic, antique imagery.