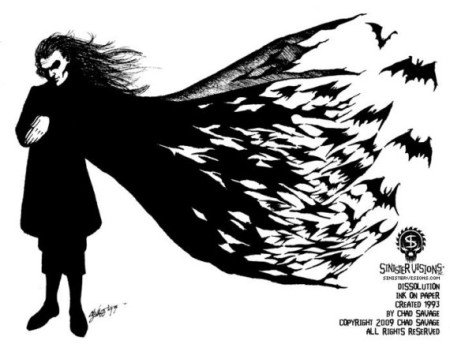 The Vampires-By Angelique Duncan
The Vampires
Many of us know of the Vampires. Cloaked undead revenants that have returned from the dead to suck the blood of their victims and spread misfortune to those they infect. They roam through the night searching for their victims in flight as a Vampire bat shifting into human form to seduce their victim for that bite upon the neck. Swiftly they return to their coffin before daybreaks and the sun rises. Where did they come from? Did or do they exist? Or are they the stuff of imagination and hysteria to explain what was misunderstood and couldn't be given explanation?
Through out history there have been documented cases of bizarre murders and bloodlettings that have been officially classified as the work of Vampires. Individuals who committed heinous and brutal killings have been either identified in records as, or self proclaimed as Vampires. Up into modern decades, serial killers have mimicked Vampire style murder.
Vampire is a word of Slavic origin. In Turkey the translation is literally witch. Often they are referred to as revenants. Stories of Vampires, under different names, first appeared in Slavic regions in the 11th century and in European history after the 1400's. The term Vampire began to appear in the English language around the 1700's. It was used to describe those who it was believed had escaped from the grave after burial. Stories have been recorded and passed down of graves that had been unearthed and the remains moved or in other positions than they were left in that led people to suspect that Vampires would leave their graves by night and return to them by day.
A possible explanation for the unearthed graves of earlier times is that graveyards were not as secure as they are today making it easy for grave robbers to dig up graves to riffle for jewelry and valuables. Some in the scientific and medical community would dig up graves for the opportunity to work with human remains as cutting cadavers was considered a morbid practice and not approved of. A more gruesome explanation for the altered positioning of bodies might have been the result of patients who were buried too soon and had not completely expired at the time of burial. The disturbed coffins were the result of their desperate attempt to release themselves form untimely burial.
Though some believed that the explanation was that the deceased had become a Vampire. Efforts where made to contain the undead from returning by loading rocks upon the gravesite. Another early practice was staking corpses that were believed to be Vampires into their coffins so that they could not leave the grave at night. This may be where the belief that Vampires can only be stopped by a wooden stake through the heart stems from.
The superstitious held that that Vampires would return to the home or family they came from to settle scores or execute revenge on those closest to them. It was further believed that Vampires would retain their sexual appetite, seeking their spouses to continue their relations after death or to infect the spouse to take them with them to the grave. If a member of a household had died from disease and shortly there after other family members had fallen ill, it was believed that the member who died first had returned and infected the home. It thought as well that a household who recently experienced a death suffered from misfortune, it was a curse left by a Vampire. Today many believe that households that suffered mass deaths from a particular disease did not occurred from corpses returning from the grave, but from a lack of sanitation and proper understanding of the containment of infectious disease.
Early descriptions of Vampires were that they were pale, bloated and swollen with sunken eyes. It was thought that they drank the blood of live humans to nourish themselves after death. Those who had been bitten would suffer the same fate, to become a Vampire. These physical descriptions of vampires may have been based on people of earlier decades limited knowledge of decomposition of the body after death.
Corpses would be buried in unsealed wooden boxes and often not as deep or well covered as modern burial practices. As the body decays the stop in blood flow to the capillaries ceases, causing the skin to turn pale. The stop of oxygen flowing through the blood stream causes skin to have a gray or bluish tint. The under the eye cavity begins to sink and become purplish. Decomposition of intestines at a greater rate than the rest of the body causes bloating and in some cases can push blood up the intestines to the mouth. Bodies buried in winter tend to decompose slower and if buried right before a frost of freeze, a body will "preserve" given the appearance that the dead is not decomposing. All these elements would make for the common descriptions of undead, blood feasting revenant. The bloating would be mistaken for being well fed, and the blood seeping from the mouth evidence that the subject had been sucking blood.
Folklore tells that not all Vampires dwelled in graveyards. It was believed that some existed among the living. Those with strange unexplained appearance and behaviors was suspect of being infected as a Vampire. Accounts of people who were accused of Vampirism may have been suffering from medical disorders that were not well understood that fit the descriptions given of Vampires. Possible diseases that could have been mistaken for Vampirism were rabies, severe anemia and Photosensitivity.
Another disease associated with possible Vampirism is anemia, a condition in which the blood lacks iron. Those who suffer from anemia can become pale often with dark circles under the eyes and marbling of the skin. In some severe cases, anemia can cause gastrointestinal bleeding, left untreated can cause one to spit up blood. An early treatment for anemia was the consumption of blood to replace the needed iron.
Photosensitivity is a condition that causes an inability for an individual to go out in sunlight without ones skin blistering or burning. The lack of vitamin D would cause folks affected to be pale lacking pigment. This would add to the belief that a person affected with vampirism could only maneuverer at night.
A commonly held belief was that Vampires were shape shifters who could transform into nocturnal animals, often the animals associated, as Vampires were owls and wolves. It would not be until 1897 that the belief that Vampires shifted into bats would become a part of the folklore. The idea came from Bram Stokers tale of Count Dracula. Although Europe does have a bat population, the iconic blood feasting bats used in Vampire mythologies was not discovered until explorers identified them in Central America. The bats were named after the undead creatures of the night and Stoker evidently felt it would be a good fit for the character of his book. The link between Vampires and Vampire bats has been in place ever since*.
Cultures have had a fascination with the Vampire for centuries. The mythology of Vampires has been driven by ancient folklore, written history, fiction writers and moviemakers, who keep the legends alive. In the modern era Vampirism has become a fashionable fad. Less the gruesome bloated monsters of their origins, Vampires have become romanticized as something attractive and mysterious. The modern Vampire is sleek, debonair and seductive.
The existence of the Vampires has never been proved or disproved. Perhaps they lie waiting in their graves to rise again. Maybe they walk amongst us disguised as everyday people. Who knows if the bat that flies across the midnight sky is just a common bat or a mythological shape-shifting Vampire looking for blood.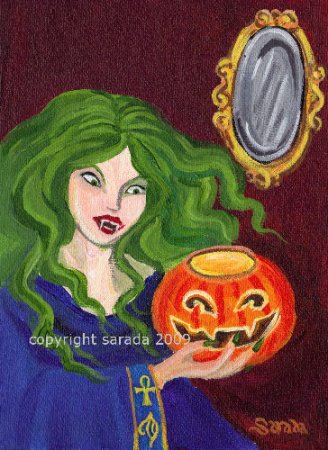 * Although vampire bats have been referenced in this entry in association with Vampires please do not fear or discriminate against them. For more information and facts about vampire bats as a species visit BatWorlds to learn more about them. http://www.batworlds.com/vampire-bat/
Artwork "Dissolution" appears courtesy of Chad Savageand may be purchased through his Etsy shop.
Artwork "Emeraude Feels Festive" appears courtesy of Art By Saradaand may be purchased through the HAB catalog.
Angelique Duncan is proprietor of Twilight Faerie Nostalgic and Capricious Objects. Check out her artist page to find links to her shops and vintage inspired traditional holiday art. Visit again next month for more traditions and folklore.