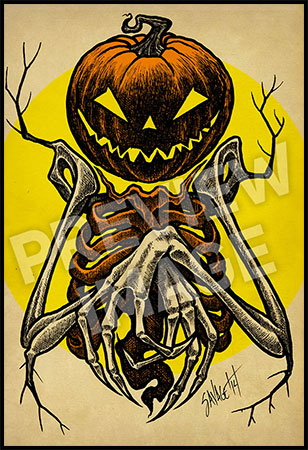 To find where Chad Savage sells his wares visit him artist page on HAB. 
Interview with Chad Savage of Sinister Visions:
At what age did you discover your love of Halloween?
I'm quite comfortable claiming that I didn't discover my love of Halloween so much as it was always innately in me. It's been my favorite thing in the world, quite literally, as long as I can remember. My family celebrated it and decorated for it during October, but I wanted it all year long.
What is your fondest Halloween memory?
Halloween 1977. I was Luke Skywalker, my aunt was on our front porch as a witch with a "boiling cauldron" of hot apple cider, my dad was a ghost who shepherded us kids while we went trick or treating (he would just stand in the street, covered with a white sheet and wearing sunglasses so you couldn't see his eyes, and stare into the open door – very unsettling to the folks handing out candy!). Everybody decorated, some houses had set up make-shift haunted yards and garages – the whole neighborhood enthusiastically participated. It was the kind of Halloween you seen in movies now.
How do you celebrate Halloween?
On a base level, I celebrate it all year – I am surrounded by jack o'lanterns made of rubber, plastic, clay, metal and more in my office, and both of my arms are sleeved in Halloween-related tattoos. In late September we decorate the house and yard. During September and October we go to as many Halloween and Autumn themed occasions, parties and events as we can. Haunted houses, too. On Halloween night up until this past year I took my daughter trick or treating, dressing up myself as something scary enough to make people cross the street rather than walk past me on the sidewalk. This last year, however, my daughter decided she was too old to trick or treat, and the weather was awful, so we stayed in to hand out candy to trick or treaters who never really showed up and watched Halloween-themed movies. Kind of a let down, really. We'll have to think of something more exciting for 2015*…
*Interview conducted pre October 2015-hope Chad and his daughter got to do something really cool!
When did you start creating in your medium and what training have you had?
I come from an artistic family on my father's side and have been drawing and painting since I was old enough to hold a pencil. I have a BFA degree in illustration and graphic design.
What was the inspiration to create what you create and when did you know you wanted to create Halloween?
Monsters and spooky things have always informed my artwork, even when I was a kid. My full time job now is creating marketing materials, branding and websites for haunted attractions and horror/Halloween-themed businesses, so my life on a daily basis is inspirational when it comes to creating Halloween art!