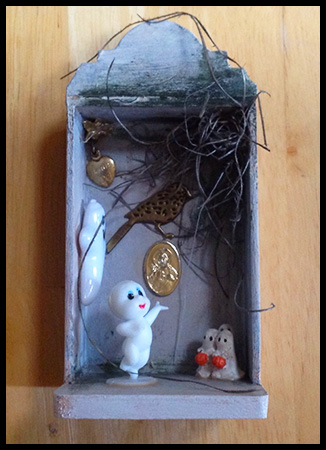 To find where Denise of Wicked Alterations sells her wares visit her on her artist page on HAB. 
Interview with Denise Mattox of Wicked Alterations:
At what age did you discover your love of Halloween?
I guess like most it was in grade school, dressing up and going out after dark. Walking house to house getting candy. Being chased by older kids in plastic masks.
What is your fondest Halloween memory?
Being out way past bedtime because it fell on a Saturday. My folks let me spend the night with a friend and we were out way late, walking and giggling like grade school girls do. Until my friends' mom noticed we weren't home yet. Oh boy, trouble! But it was worth it.
How do you celebrate Halloween?
Now, in my 60th year, everyday is Halloween. I wear skulls on my clothes. I paint and create things that I use to see only in October. I watch horror movies when I can find them on Netflix. Tim Burton is my modern favorite and any classic old horror movie is romantic to me.
When did you start creating in your medium and what training have you had?
The little shadow boxes I started doing a few years ago. I started collecting doll parts, charms, really anything that creeps people out, and putting them together. I've been painting for years. For a long time I was a closet painter, not very many people knew. No training unless you count a few art classes in high school.
What was the inspiration to create what you create and when did you know you wanted to create Halloween?
My inspiration, I guess is Tim burton; it's ok to be dark, funny, and loving all at one time.