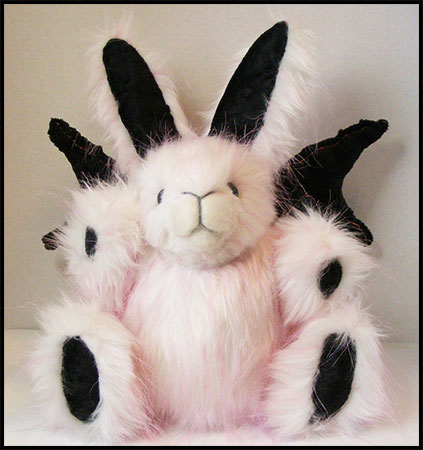 To find where Katrina Sosnowski sells her wares visit her on her artist page on HAB. 
Interview with Katrina Sosnowski:
Which pieces of your artwork are you most proud of, currently for sale or sold? Share an image of it if you have one.
I think the art I am most proud of right now is my plush version of a Gothbunny. They were a lot of fun to make and I look forward to doing more stuff like that.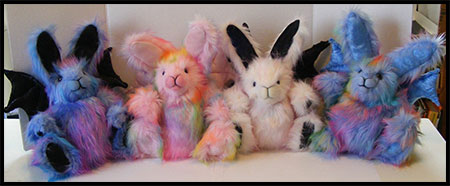 Name an artist(s) whose work you admire and what influence have they had on your art?
I have a lot of artists whose work I admire but my top 3 would have to be my husband Mike Sosnowski, his monster paintings are the reason we are married. I started collecting his work at shows and decided I needed to collect the artist too! He is such a big help when I ask his opinion on whatever I'm working on he gives me lots of good feedback and is very encouraging. I'm also a big fan of Josephine Wall. I love her use of color and all the hidden images in her work. I am in love with the fairies of Nene Thomas her work is just so beautiful.
What would you consider the highest honor or greatest goal you would like to achieve with your art?
The highest honor for me would just to be able to quit my day job and make money off making art full time!
What Halloween costume that you got to wear in childhood was your favorite and has the fondest memory for you?
I don't think I have a favorite costume the best part of all of them was helping my mom make them.
What is your favorite Halloween icon? Why do you identify with its imagery?
I think my favorite Halloween icon would be the Halloween bat, I love that they are cute and scary at the same time.
If money and wherewithal were not an issue, what would be your dream way to spend Halloween?
When my husband and I lived in Hollywood CA we were about 10 minutes away from Universal Studios and we got to go the Halloween Horror nights event a few times, I would love to be able to do that again it was so much fun!