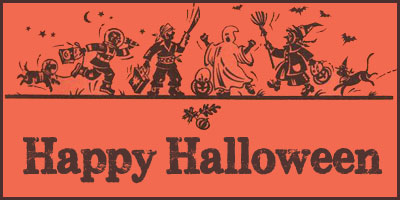 Spirit of Halloween-By Angelique Duncan
Growing up in the 1970's Halloween was a big deal. Before the "Candy Man" poisoning and alleged unconfirmed reports of razor blades in apples. Before the fears of devil worshiping cults stealing children and the belief ones neighbor must be a psychopathic killer, Halloween was huge. The urban legends of Halloween horrors hadn't taken grip. The October holiday's reputation had not been tarnished by the cultural fascination with fear that had arisen in the late seventies and early eighties. October 31st was an enchanting street party spanning one evening as communities came together, watched out for each other and owned their neighborhoods and ironically were not ruled by fear.
Halloween was the greatest spectacle in one night that a kid could dream of. In the neighborhood where I grew up, Halloween night was an occasion when the entire neighborhood was engaged and the community of neighbors came together. As the sun went down the streets began to fill with all manner of monsters, superheroes, and witches. Pirates and up right cats ruled the night. The build up to Halloween began promptly on the first day of October.
Over the weeks building up to October 31st the houses transformed from normal suburban homes to haunted vignettes. Pumpkins would start to show up on porches, sheet ghosts hung from trees. Orange and black streamers appeared and rattle-ly plastic skeletons were hung from beams and steeples. Home made scarecrows and monsters made from old work clothes and stuffed with newspaper would prop in lawn chairs and benches. The retail world had not yet caught on to the phenomenon of Halloween, so most of the visual spectacle of yard decorations and costumes were home made. There was a sense of sincerity and creativity shrouding the Holiday.
One essential component to every home was the carved lit Jack o lantern, no matter what motif one haunted their yard with; it was not complete with out the iconic glow from the face of a hand carved pumpkin guard. On Halloween night the assembled masterpieces formed from kitchen knives and powered by tea light and votives would smile their candle lit grins in unison.
The entire month of October was spent building ones costume. Once one decided what persona they would be for the night, it was time to assemble the costume. Back then it was deemed cooler to have created your own costume than to have bought one at the few stores that retailed them. Before the marketing of blockbuster movies and commercially licensed cartoon characters became a booming industry, the store bought sort of costumes were prefab plastic mask and tie back costume made from that odd sort of woven plastic nylon "fabric" that seemed to only appear at Halloween. Planning ones costume and getting it just right was essential. Weeks were spent in preparation; collecting bits, sewing and gluing this and that until all the pieces came together.
Finally, after much anticipation, October 31st had arrived. As tradition held from years before, the festivities would commence at dusk. The scramble would begin to get the pumpkin lit, the candy bowl by the door and costume on. Once the sun had sufficiently fallen on the horizon, with bag, pillowcase or bright orange plastic jack o lantern bucket in hand Trick or Treat would begin. Halloween night had arrived.
The little ones came first, accompanied by their elders who had taken on their own costumed personas. The next wave was the school age Trick or Treaters taking to the streets in packs. Later as the moon had ascended high in the October sky, the big kids came, these were the ones who put the trick in Trick or Treat. Halloween night would go on and wasn't over until midnight. Today one is fortunate if masked visitors knock after 9:30. Back then the knocks would last well in to the night not fading until 11:00p.m. or midnight, even if the magical eve fell on a school night.
Through out the night neighbors flooded the streets in costume, the small children and the oldest of adults. Folks would decorate their baby's strollers in black and orange or pull their small children in wagons that had been spooked up in Halloween flair. Through out the Autumn air the sounds of collective shouts of TRICK OR TREAT!" laughter and random screams drifted as if on a constant loop.
Nearly every house kept their porch light on. Most folks would answer the Trick or Treat knock in full scary garb or at least in a minimum witches hat or animal ears and drawn whiskers. If a resident had gone out for the night their neighbors would hand out candy in their stead and let the Trick or Treaters know not to trick their house. Folks would usually stand on their porches or driveways waiting for the costumers to come.
In our neighborhood the haunted garage was a common attraction. At least 3 to 4 houses would be decked out in mazes and stations where Trick or Treaters would dare to earn their treats. Friendly competitions would arise as to who would have the scariest garage for that year and bring in the most visitors. Word would spread like wildfire on the streets where the best candy or baked goods were being given and where the best-haunted garage could be found. At the end of the night one was sure to find popcorn balls, candied apples on sticks, rice krispie treats and printed Halloween bags filled with cookies assorted among all stripes of chocolate bars and packaged cadies. Ones bucket or bag would be so full that one might even have to work their way home to empty it so that one could go out and fill it again.
Once tired feet and aching legs had won over the excitement of the evening, and every last house visited, one would make the journey from the other side of the neighborhood back home. The sounds would have quieted some, lest the occasional Trick Or Treat holler heard in the distance. The streets would be littered with wrappers and plastics left from eaten treats and the occasional split skin from a smashed pumpkin that had suffered an untimely, and gruesome fate. Back home one would spread their bounty across the floor to revel in another year's well-earned Halloween bounty. With sticky hands and sweet filled bellies one drifted to sleep with dreams of the big questions for next October…"What face to give the pumpkin? How to make the yard more scary? What do I want to be for Halloween"?
Reflecting on Halloweens gone by, one hopes that folks will keep the cultural experience of this historical celebration running and children today could have the same fond memories in their own neighborhoods. It is up to us who carry our own happy reflections to keep the spirit of Halloween alive for the following generations. Reclaim the holiday. Hang a ghost from your tree. Find the biggest bowl you can and fill it with candy. Put on a pointed hat and talk to your neighbors, know whom they are. Gather your kid's friends and plan a Halloween Trick or Treat extravaganza. If you don't have kids, gather your own friends and haunt up your yard, hand out treats and make Halloween great again in your neighborhood. Keep your porch light on and keep a Jack o lantern lit in the spirit of Halloween.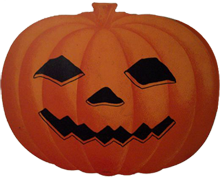 Angelique Duncan is proprietor of Twilight Faerie Nostalgic and Capricious Objects. Check out her artist page to find links to her shops and vintage inspired traditional holiday art. Visit again next month for more traditions and folklore.