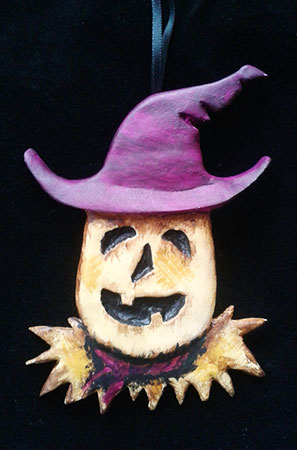 To find where Angela Ryer sells her wares visit her artist page on HAB. 
Interview with Angela Ryer of A.Ryer Studio:
At what age did you discover your love of Halloween?
Around 7 or 8. My parents made a big to do about it when they bought New Halloween decorations for the house we moved into, I was fascinated by them. They (my parents) hung a sheet in the foyer, put up a black light, decorations and when I came home from my own trick or treating, *this* was MY world….and I loved it; my introduction into Home Haunting.
What is your fondest Halloween memory?
Around 13 or 14 years old, at a new house, my dad hung up sheets outside on the long front porch. I had a ton of masks hanging on them. My neighborhood friend, Bo, a REALLY big kid for his age stood up against the house in a mask and gloves. I was in my mom's old witch costume, TRYING to be creepy, saying my shtick. One of our schoolmates went "Aww, this is LAME!!" while some of the other kids were standing there eyeing my friend against the wall suspiciously. Just as the one kid made the lame comment, Bo SPRANG into life screaming and got a hold of that kid by the throat!! Just on the other side of the sheet, my brother and his wife stood there as butts fell from under the sheets and kids scattered screaming their heads off like the devil was after them with Bo in hot pursuit!! LOL Yeah!!! How do you like me NOW????
How do you celebrate Halloween?
I do a small display (built a free standing ghost woman with no head) carve lots of pumpkins play Midnight Syndicate and give out candy.
I also tend to bake a lot of pumpkin stuff…
When did you start creating in your medium and what training have you had?
The ornaments started in 2004. I had ABSOLUTELY NO TRAINING in sculpting or mold making. I was in a professional Halloween/haunt group and asked for help in getting started. Some good people pointed me in the right direction and I literally started from scratch. I taught myself.
My cemetery artwork came a little later. The only training I had in painting was high school level. I stopped for a number of years. Back in 2002, after discovering Midnight Syndicate, I became inspired and took myself much more seriously. I started painting from my own cemetery photographs and discovered, I REALLY liked painting nature and capturing my images on canvas. The rest is history.
What was the inspiration to create what you create and when did you know you wanted to create Halloween?
You could say, my ornaments are my *marching orders*.
They came to me in a flash of divine inspiration of what I knew I was supposed to do, for whatever reason, as an artist. I wasn't looking for anything. It just hit me and I found myself creating something beyond what I ever dreamed. When did I know I wanted to create something Halloween??? After creating my first yard haunt. Sitting there in 40°weather staring at what I created; it literally looked like a mini movie set. I knew in my heart I wanted to create something unique to me in the realm of Halloween.