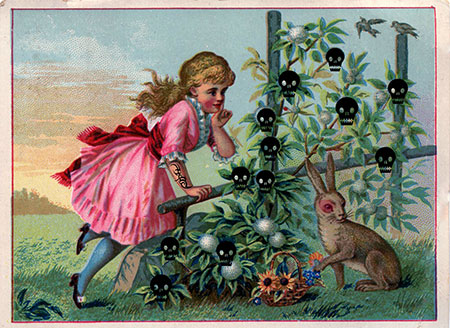 A Gothic Easter Celebration Part II -By Debbi Decker
In my last post, I shared some ideas about Gothic Easter decorations. By now, you should be well on your way to gathering your items for decorating, and even have come up with some ideas of your own! In this post, I want to share some great food ideas for your Easter menu.
Cracked Easter eggs are so easy to make. All you need to do is boil your eggs as normal and let cool. Take the cooled eggs and crack by rolling gentle on a paper towel. Do not peel. You can use any kind of regular egg dying kits you buy in the grocery or craft stores but when mixing the colors, omit the vinegar. Immerse your eggs in your colors of choice and leave overnight. When you are ready to serve, completely peel the eggs to uncover the interesting crackle effects left on the egg white by the dyes. Some will look like spider webs too! The eggs can be used for deviled eggs or sliced in wedges or large rounds for salads.
Gothic Sugar Cookies. I love the idea of this because you can be as wild as you want. Using your usual sugar cookie mix, you can create sugar cookie skulls,rabbits, bats, coffins, chicks, etc. Decorate the cookies using colorful spring colored frostings and candies, or pipe tattoo style designs on the cookies. You could use crosses, pagan symbols that represent spring, steampunk themes, the sky is the limit.
I am not a big fan of sit down dinners when I have get-togethers. I prefer to have what I call easy eating food that does not interrupt the conversation flow and fun. So, finger sandwiches with a variety of fillings in shapes such as rabbits and chicks, with bits of veggies for the eyes and faces. Radishes and other vegetables cut into floral shapes, molded cheese in creepy shapes. Dips for the veggies can be created in many colors and flavors. Thin slices of ham and cheese wrapped around slightly steamed asparagus stalks. Fruits dipped in chocolate. Use serving dishes and utensils that have a Victorian or Gothic feel. Cracked and crazed pottery, old slightly tarnished silver, frayed table cloths, lace, and mats. Did you get that Zombie Peeps tableau set up yet? Beverages using cherry, pomegranate, or grape juices are great and follow right along with whatever theme you end up with. They can be fancy or plain. Sangria is a wonderful punch for any time of year.
Remember the masks that were discussed last month? Well, here is a great Easter egg hunt idea for either before or after the party using those masks. Find a location that is easy to get to, such as a wooded area on your property or a friend's. A cemetery that has lots of trees and natural settings would be great too. Create fancy invitations for each of your guests, giving the location, time, date, a reminder to bring the masks they made, and to dress in their interpretation of Alice in Wonderland, Steampunk, or Victorian. Ask everyone to bring a basket for their eggs and a camera. Digital or those throw away cameras are fine, and settings are preferably black and white. Right before the party, eggs should be hidden throughout the location.
Once everyone has arrived, off you go to hunt for eggs and taking pictures of everyone while they are hunting. Don't try to stage your shots. Rather just take shots randomly and from different angles, far away and close up. After the hunt, everyone's pictures are shared. The best pictures can be used to create a book to commemorate your event and the good time had by all! Some of the creepiest and best pictures I have ever seen are people in costumes and masks taken in black and white.
Have great Easter celebration everyone!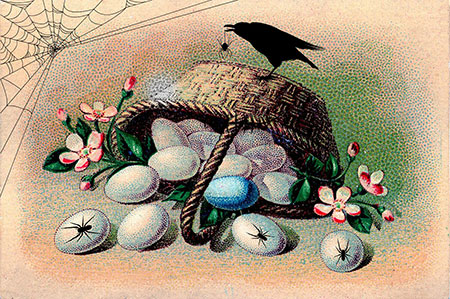 Debbi Decker is proprietor of twistedpixelstudio Art & Assemblage Emporium. Check out her artist page to find links to her shop and blog to read more of her writings. Visit again next month for the telling of hauntings and ghostly tales by Debbi Decker.