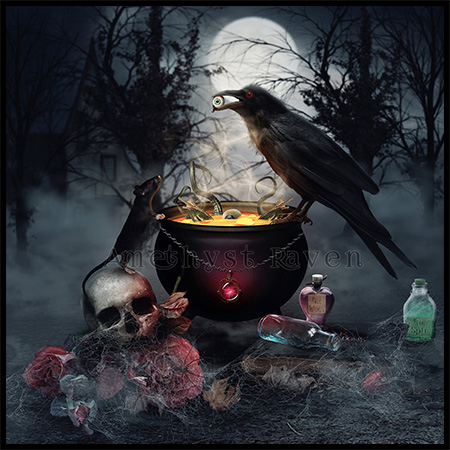 To find where Amethyst Raven Designs sells her wares visit her on her artist page on HAB. 
Interview with Amethyst Raven Designs:
At what age did you discover your love of Halloween?
I discovered my love for Halloween around the age of about 7 -8. It was when I discovered my gothic side and love of new romantic music… The style and Halloween just added to it…
What is your fondest Halloween memory?
I don't really have a fondest Halloween memory; I have a few Halloween memories'… Two in particular, 1st was 7 years ago, My son was born the day before Halloween and it was quite a dramatic delivery, I had to have a c section, and ended up losing a lot of blood, through the night I took a turn for the worse and ended up having to have a blood transfusion on Halloween… Hooked up to the machines draining the blood whilst the nurses and midwives all dressed up in costumes rallied around =D It was funny…
2nd was 5 years this year my grandfather passed away on Halloween, whilst it is a sad occasion, it is also carries great memories because he LOVED Halloween.
How do you celebrate Halloween?
We celebrate Halloween; by dressing up, decorating the house just have fun. Also as I mentioned my son was born the day before so it is now a great excuse to have a party. 😉
When did you start creating in your medium and what training have you had?
I started creating in the medium I use about 3 years ago… I have had no formal training, apart from fine and tradition art diplomas, I am self-taught with Photoshop and digital art…
What was the inspiration to create what you create when did you know
you wanted to create Halloween?
I gain inspiration from the things around me, and use my imagination, anything creepy, dark and just plain weird if it sparks my interest, then I go with the flow. Creating Halloween style art is just my style… I mix it up sometimes by creating fantasy art… But always prefer the darker side.