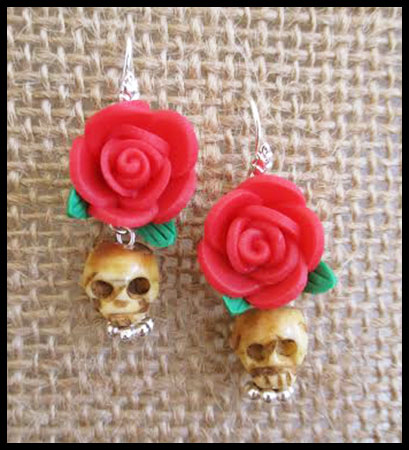 To find where Janis Logsdon sells her wares visit her artist page on HAB. 
Interview with Janis Logsdon of Janis Logsdon Jewelry and Art (Jan's Beads):
At what age did you discover your love of Halloween?
Grade school really. I grew up in the 1950s and there were a TON of kids in my neighborhood. We all trick or treated together like a mob! It was so fun. Besides who did not love to get dressed up as some one else as a kid? OK… or even as an adult.
What is your fondest Halloween memory?
My funniest really. That mob from above went out one year and a neighborhood man held us up a while with his tricks – yes, magic tricks. While we all stood open-mouthed waiting at the door for candy. Crazy, fun filled people in my childhood neighborhood.
How do you celebrate Halloween?
We used to go out to dinner every year at a restaurant in La Habra, CA, where the staff dressed up in insane costumes. Then we would go home and give out candy to the little ones. Now we pretty much stay at home and do the candy thing. However this year we celebrated at the Aiken Fall Steeplechase. That was different. To be clear, the people dressed up; the horses did not.
When did you start creating in your medium and what training have you had?
I started 20 or so years ago by making all holiday jewelry, charm bracelets mostly. When I got to Halloween and Day of the Dead I found my calling and have been there ever since. Self taught mostly. Over the years I have taken and taught jewelry making classes. What is really nice is to get together with a few like minded friends and create. It is wonderful bouncing ideas off of each other. That is what is so special about HAB. Lots of talented people giving you encouragement.
What was the inspiration to create what you create and when did you know you wanted to create Halloween?
This is so hard to answer. Somehow it was just a gut feeling I could not ignore. And, well, for some reason little bone skulls just make me smile. I have thousands of them in my collection. Honestly, some I will keep forever.