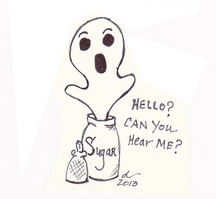 It Just Speaks To Me.-By Debbi Decker
When a good friend suggested that I write about haunted objects, I thought it a great idea and off I went to gather my ideas and how to present them. Halfway through the thought process, it occurred to me that I do not know, exactly, what I believe about this or even how to definitively define the idea.
Haunted objects are a popular subject. People search for these items, sell these items, there are museums that house these objects, and the televisions shows, movies, and stories are a dime a dozen. Paranormal investigators will swear to this phenomena.
The word "haunt" has different connotations. The presence of a ghost in a particular setting. The constant visitation or haunting of a particular place. The haunting memory that comes back over and over. The harmful effects of an action that we took that comes back to haunt us. These will suffice for the subject matter hand.
So, what exactly IS a haunted object? A commonly accepted explanation is that it is a tangible object, be it jewelry, furniture, books, dolls, personal effects, etc., that has a ghost or other entity attached to the object. The simple possession of the object in question brings with it a presence that manifests paranormal activity in proximity of the object. Strange noises, movements, feelings, illnesses are all reported in connection with objects purported to be haunted.
However, there is another equally commonly accepted explanation. That houses and land can be imprinted. Thoughts, emotions, etc., are all types of energy, and energy can affect its surroundings, to include the objects that are in those surroundings. Items from these locations could also be termed haunted.
An excellent example of the latter explanation would be a battlefield where people died and were left in situ. This type of event had enormous energy expended by the people there, so much so that it imprinted the land. The land becomes haunted. People report ghostly battles, see ghostly soldiers. Someone then comes along at a later date finds a button from a uniform or a bullet from a gun, and takes it home. Suddenly they experience feelings of pain, horror, fear, and sadness. And after investigation they realize that these feelings come to them through ownership of the button or bullet, so they get rid of it and then these feelings go away. That button or bullet had been imprinted with the same energy and emotions as the land it came from. The owner is haunted by the energy imprinted on the button or bullet.
The above explanations leave me a bit short, though, when trying explain the phenomena of an object that seems to call out to me. SOMETHING is communicating with me. Calling me to own that item for whatever reason. Which feels entirely different to me from experiencing a run of the mill haunting of a house or bit of real estate. I've touched "positive" items and bought them, and I have held "negative" items and put them down fast and walked away ignoring that call. For want of a better explanation I would have to say that the object is haunted.
So now comes my dilemma. Is it a ghost speaking to me? Will that ghost come home with me? Or, is it the ghost's personality and emotions imprinted upon that object that speaks to my psyche and therefore imparts the feelings of being drawn to that object? I am sure that there were people who had such enormously strong attachments to their personal possessions that they would haunt in either a negative or positive manner the current owner. However, I imagine that as a ghost I would find other, more fulfilling activities to spend eternity on. Perhaps, it's simply explained as a matter personal preference of the ghost involved. To haunt or not to haunt as it were.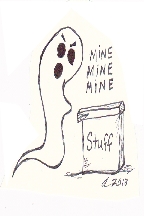 I debate back and forth with myself regarding my personal convictions related to this phenomena so I can't really offer a solid explanation for the idea of a haunted object. I have, however, adopted the expression that "it just speaks to me". It is as good an explanation as any leaves me with less angst over my inner debate.
Debbi Decker is proprietor of twistedpixelstudio Art & Assemblage Emporium. Check out her artist page to find links to her shop and blog to read more of her writings. Visit again next month for the telling of hauntings and ghostly tales by Debbi Decker.