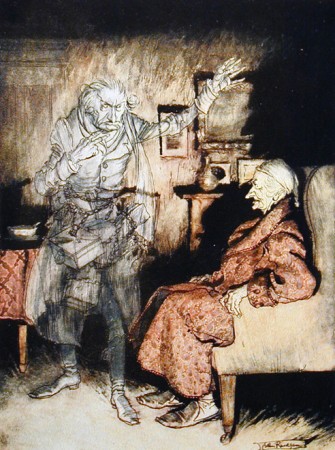 A Haunting At Christmas-By Debbi Decker
The stockings are hung, the tree is decorated and the fire is flickering. Gather 'round. It is time for a ghost story.
What?! Wait! It's Christmas!
Not the time of year for that kind of thing!
We want stories of Santa, and Rudolph!
Believe it or not, telling stories of hauntings and ghosts during the Christmas season was a popular Victorian pass time. You are perhaps familiar with the story written by Charles Dickens and published in 1843, titled "A Christmas Carol". The story not only features three different ghosts, but many historians also believe that publication of this story brought about the mid-Victorian revival of lost Christmas traditions and beliefs. This Victorian revival drew heavily upon the old pagan symbols such as the Yule log, caroling, the holly and the ivy, and the "Father Christmas", the precursor of our modern-day Santa Claus. All of these practices had their roots in pagan festivals such as Yule and Sol Invictus, and it was believed that during the Solstice season, the barriers of the earth are at their thinnest and ghosts cross over to complete unfinished business.
Merry Olde England is awash with tales of Christmas hauntings. Anne Boleyn, the second wife of King Henry VIII, has been sighted each year on Christmas Day near Hever Castle, her ancestral home. The White Lady of Cornwall appears each year on the day of the Winter Solstice, and it is said that to see her is to bring misfortune. Small white swine or pigs with red ears are said to cross the road every year on Christmas Eve in Calcutt, Wiltshire. These, and stories like these, were told during the Christmas season each year.
It's almost a lost art. There are, however, some more modern instances that recall the practice of telling ghostly Christmas tales. Dr. Seuss' 1957 publication of "The Grinch that Stole Christmas". Tim Burton's "Nightmare Before Christmas" which was aired in movie theaters in 1993. And, have you ever truly listened to the words to that popular Christmas song "It's the Most Wonderful Time of the Year"? This song was written in 1963 by Eddie Pola and George Wyle, and recorded by Andy Williams. I call your attention to this verse:
"There'll be parties for hosting,
Marshmallows for toasting, and
Caroling out in the snow.
There'll be scary ghost stories and tales of
The glories of Christmases long, long ago."
The stockings are hung and the tree is decorated. The fire is flickering. Let us gather together, revive an almost lost art, and tell tales of ghosts and hauntings this Christmas season.
Debbie Decker is proprietor of twistedpixelstudio Art & Assemblage Emporium.Check out her artist page to find links to her shop and blog to read more of her writings. Visit again next month for the telling of hauntings and ghostly tales by Debbie Decker.