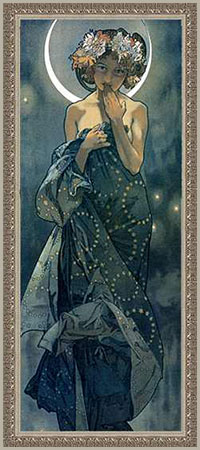 Walpurgisnacht. It's coming. The doors are opening. Are you ready?
-By Debbi Decker
Directly opposite Halloween on the calendar, the night April 30 is the other day of the year when the barriers are down between our world and the other side. Things slip through, ghosts are walking, and those who are in the know are casting spells and divining the future. And much like Halloween, there are bonfires to drive away the evil, and in some countries, pranks are played on the unwary.
"Walpurgis" is the name of an 8th century German nun who preached against witchcraft and was later canonized as a saint in 779 AD. Because her saint day was near the time of an ancient Viking festival of spring, the two celebrations were combined into the Catholic calendar to create Walpurgisnacht (nacht is the German word for night).
Walpurgisnacht is celebrated in many European countries as the last night the witches could gather before spring/summer took hold on the land and the sun was at its most powerful. Masking, the wearing of talismans, and the use of Holy Water were some of the ways people used to ward off the evil that could cross over from the other side. Scarecrows (straw men) were also made, spells were cast upon them to draw in all the bad luck and evil from the previous year and then thrown in the bonfires to burn and hopefully bless the New Year going forward.
Because the doors to the other side are open, this is also a night to communicate with the spirits and seek guidance for the coming year. Sit outside under a tree during this night and you may hear the bells of the Faerie Queen as she rides by looking for mortals to take to her realm. Burn a special incense that has a floral scent and pass tokens of special meaning to you to cleanse them and make them powerful for the coming year. If Walpurgisnacht coincides with a full moon, take a bowl of water that has been blessed with the smoke of fire, and carry it outside to gather the moon's rays. This powerful water can be bottled and used in rituals throughout the remainder of the year.
And, since the next morning is Beltane (May 1), once you have completed your Walpurgisnacht rituals, go out at dawn to gather the morning dew to wash your face. Your complexion will be magical and flawless for the remainder of the year!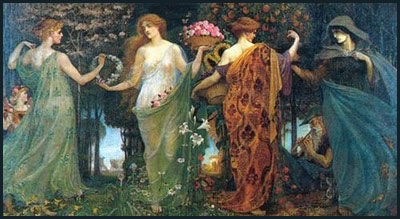 Debbi Decker is proprietor of twistedpixelstudio Art & Assemblage Emporium. Check out her artist page to find links to her shop and blog to read more of her writings. Visit again next month for the telling of hauntings and ghostly tales by Debbi Decker.