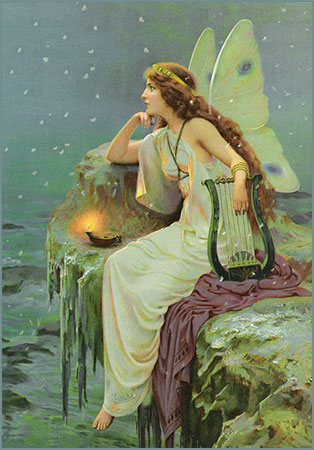 The Faeries
-By Angelique Duncan
They are known as faerie, fairy or faery, the fae or the fay, the wee people or the little folk. The word derives from Latin fata or "the Fates". From old French we are given the word "faerie". The term was once used to describe any of several races or breeds of small, often humanoid enchanted mythological creatures. The faeries earliest history comes from the Celtic peoples who tell that the faeries were of the Tuatha De Danann who came from north of the earth or from the sky and were defeated in a great war for power and retreated in the hills and mounds of Europe. In other ancient folklore they were once worshiped as benevolent Gods and Goddesses presiding over natures various elements and it was held that the Fae were innate and organic to the earth. Their purpose was to protect Mother Nature and keep mankind in check with the laws of nature.
With the rise of Christianity, the church viewed the various enchanted races as something evil. Mythologies surfaced that the faeries were the ghost of demoted angels, or lesser demons. It was believed that God closed the gates of heaven. The angels who were in heaven remained, all demons who resided in Hell were trapped and those who where locked out were the faeries. The theory was that they were not evil enough to be banished to Hades, but not pure enough to pass into heaven. The belief that they were something to be feared and unnatural to Gods law spread.
The Puritans decreed that any relations with the fae folk was a punishable crime of witch craft and that anyone who was friendly with them was consorting with evil. Sightings of faeries became more scarce and the stuff of folklore. This may have been from people fearing persecution if it was found that they had seen faeries or because the faeries themselves became less visible and had retreated further into hiding for fear of capture and death by the church. The faeries reputation became more sinister and fearsome. Stories were told of faeries that snatched children or travelers to take back to their realm. They were blamed for failed crops, trickery, vandalism of homes, theft of livestock and other malice.
With the romanticism of the Victorian era faerie lore experienced a renaissance and a renewal of their image. Although still frowned upon by the church and the growing scientific community, the mystical creatures were no longer viewed by the populace as evil but mischievous and magical. Through depiction of art, theater and literature the term faerie or fairy became more specific to an image of enchanted miniature humanoids with wings. Often they were painted or described as young, beautiful seductive women of nature or virile chiseled men of strength. Fairy tales were hugely popular during the era and the Victorians held a fascination with all things ethereal and enchanted. The faeries began their heyday in popular culture.
Faerie themed parties were popular, as little girls and women would dress in fluffy dresses and home made wings to mimic the popular image of the fae. Many would leave gifts of honey, sweets and shiny tokens to attract fairies to their gardens. It was thought at the time that if one appeased the fairies with gifts they would not practice their mischief on ones home. A common activity was to host "fairy hunts" where folks would take to wooded places and gardens with nets and jars in hopes of catching a glimpse or capturing a fairy. The fairy fascination went so far as to inspire grand and elaborate hoaxes claiming proof of fairies existence. The Cottingley Fairy photographs being the most celebrated and widely publicized. Claims of fairy sightings and interactions were on the rise.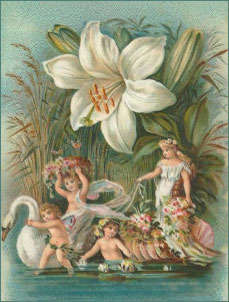 As society turned from religion and spirituality to emphasizing scientific thought moving further into the 20th century the belief in faeries and the enchanted waned. The faeries once again were stashed into hiding from the physical word and became the stuff of children's books and child's-play. The faerie remained in art imagery throughout the 1950's, however the only fairies seen were costumed girls at Halloween or birthday parties.
Faeries in popular culture experienced another revival in the late 1960's and 70's through art and the New Age spiritual movement. People began to revisit the old nature religions and modern witchcraft was on the rise, sympathy for the lost faerie magic emerged and new folklores and mythologies surrounding the wee folk was developed. This revival was short lived as in the 1980's a return to conservative ideology took hold and Christianity once again was on the rise. Simultaneously science and reasoning grounded in logic created an environment where all things magical were once again frowned upon and relegated to myth.
It is not known for certain if the faeries actually existed, or if they are the creation of the human imagination. In the 21st century they are still depicted in art and film and have a place in pop culture. Modern pagans still believe in them and have faith in their history as tangible and real. Ironically, in the past couple of decades science has made discoveries that may bring us closer to proving that the wee folk did actually exist. In the late 1970's the remains of a small humanoid skeleton that was later named "Lucy" was found in Ethiopia. Archeologist found remains in 2003 of what is believed to be a new strain of humanoids referred to as Homo Floresiensis, nicknamed "Hobbit". The petrified bones were human in nature however very small statured. Multiple remains of an entire colony of prehistoric small people standing only 3 feet to 3.5 feet tall were discovered in caves in the Philippines. Tunnels have been discovered in hills across Europe that have indications they were built by humans yet are only big enough for a child to fit through. Artifacts of tools have been found in and around the tunnels, but no one is sure what purpose these tunnels served. In the pursuit of understanding human history, science may lead to the magical faeries.
A 2007 hoax was perpetrated in Derbyshire claiming an intact faerie corpse had been discovered. Although a hoax, it brandished international attention and an outpouring of people who believed it to be true. When it was disclosed that it was indeed a hoax, many were vocally disappointed. The hoax hit a nerve with people. It illustrated that despite all our rational thinking, scientific thought and generally conservative beliefs, collectively people wanted to believe it was true. They wanted faeries to be real. After all these centuries people still have a profound connection to the notion of enchanted beings that exist in the forest and gardens of Earth.
Who is to say for certain that once upon a time a race of mystical faerie beings didn't once walk among us casting enchantments? Or maybe, they still do. Perhaps on a warm May evening if one is very still and very quiet they may catch a glimpse of a passing faerie moving through the garden or forest floor.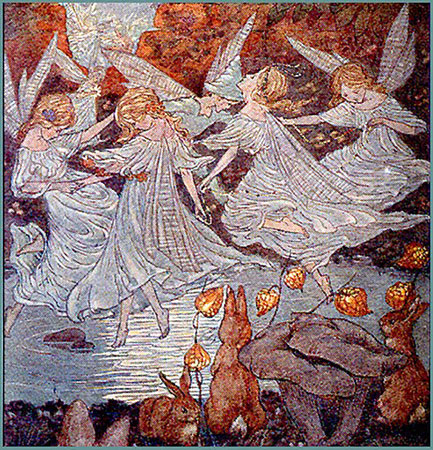 Image copyright 2014 Michelle Angelique Duncan
Angelique Duncan is proprietor of Twilight Faerie Nostalgic and Capricious Objects. Check out her artist page to find links to her shops and vintage inspired traditional holiday art. Visit again next month for more traditions and folklore.