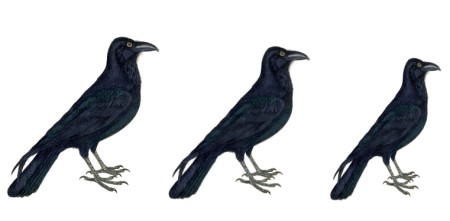 THREE CROWS CALLING
-By Debbi Decker
The crows were calling. One, two, three in a row in the tree. "Go away, we are not ready". Selfish, really, when it is not us who has to be ready but rather the one they come for. We are never ready to let our loved ones leave.
The old ones tell you that three crows is a harbinger of death. The Morrigan has come. The Goddess of death and rebirth.
He stopped breathing several times and so the priest was called. Last rites spoken, holy water sprinkled. The rosary was placed around his neck. Some in the room believed, others did not. Still, we all hoped it would bring him peace.
They came the next night. Three shades passing through the room, invisible to our eyes but solid enough to block the glow of the small lights that were lit for his comfort. Three beings now standing guard and waiting. Sometimes they touched you. A sense of ice on your elbow. A gentle nudge against your leg. No way to tell who or what they were. Only that they were present and that he knew they were there. You could watch him whisper to them in his delirium and watch him listen to them as they spoke back.
I held his hand through most of his fight, not wanting him to ever feel alone. His was not an easy passing. He had much on his mind, worries for the rest of us, and things he wanted to say. Time laid heavy on us all as we watched him fight. No longer with us but not really gone from us either.
And at the end, I watched as he took his last breath and held him close as I said goodbye. The three crows calling in the early morning sun, while the three watchers stood around him to guide him on his way. I swear that on that morning I could feel him fly.
His journey here has ended but mine is just beginning. Because I now have to make sense of it all. Three crow calling, three shades passing. Who came to guide him on and who will come for me when my time comes? I trust that the essence of his soul has gone on to live in another life. My hope is that our souls will cross paths once again.
The meaning of three is that "all is given", the past, present, and future. Birth, life, and death. The cycle has finished. And must begin again.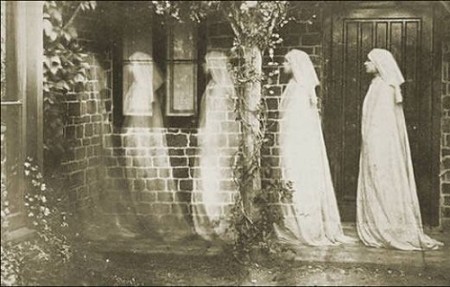 Debbi Decker is proprietor of Crazed Poppet Creations Art & Assemblage Emporium. Check out her artist page to find links to her shop and blog to read more of her writings. Visit again next month for the telling of hauntings and ghostly tales by Debbi Decker.