The Blue Feather
By Intricate Knot
"The game is afoot."~ Sir Arthur Conan Doyle
When last we left our heroes, the ever stylish, sleek, cat Fiddler and the forever cantankerous owly-raven Wilbur, they were in the midst of saving Easter. With all those spring time eggs that needed to be decorated, there was no time to contemplate the clues left behind by the kidnapper and thief: a single blue feather and a scrap of dirty, gold scarf. Who or what had caused the disappearance of every one of Aloysius' bunny holiday helpers had to be placed on hold. Although their hands were kept busy decorating and packing eggs into baskets, they couldn't stop their minds from wandering to the chilling fact that all of the helpers were missing and even more disturbing were the missing flowers. Not one spring time flower remained in the forest or the great field that surrounded it! And the flowers hadn't been picked or plucked; trimmed or torn…it was as if there had never been any flowers at all. Not a sign of them! Thank goodness the faeries had this matter well in hand and were busily coaxing new flowers from out of the earth.
Once the last egg was packed into its tiny colorful straw basket and Aloysius hopped off, Fiddler and Wilbur turned their attention to the blue feather. Both of them knew that sometimes in order to understand the present, we have to make a trip back to the past. It's not always pleasant, although it does depend on what's back there. In this case? Definitely not pleasant for our heroes…
Hundreds upon hundreds, perhaps even thousands upon thousands of years ago there lived a beautiful and frightful creature named Glassy Croon. Beautiful because of her fantastic royal blue plumage and frightful because of her glittering scales, Glassy possessed the wings and headdress of a bird and the scaly, coiled, fluid body of snake and at the end of her tail a hypnotic rattle with a venomous tip. To add to this, Glassy had the most beautiful singing voice: a gift from one of King Neptune's Sirens.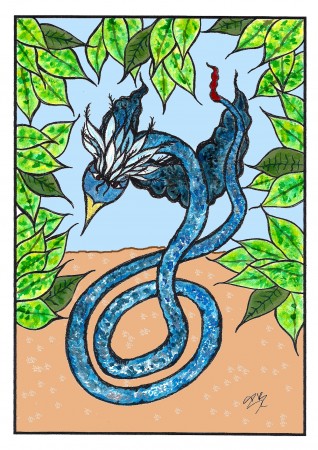 Once upon a time they had all been famous friends: Fiddler, Wilbur, and Glassy. The trio was inseparable. They did everything together, even eating breakfast, lunch, and supper together. Oh, and the adventures and fun mischief they would get up to! Fiddler was much then as he is now, but Wilbur had been a much lighter, less crabby soul in those days. He even fancied himself in love with Classy Glassy, as he called her then.
Her friendship had all been a sham, though. Glassy had devious plans, plans to disappear all the holidays and disband the Great Holiday Maker Tribe forever. It was only sheer luck that Fiddler and Wilbur discovered her plot, but that is a tale for another time. Suffice it to say our heroes saved the day (actually they saved many days!) and Glassy was banished. Although, they never discovered why she wanted to destroy holidays and the mystery has always haunted them both.
As punishment Glassy Croon had been banished to the far off Land of La, where they all believed she would never trouble anyone ever again. The portal between their world and La had been sealed, permanently. Of course in these situations the villain or villainess always manages to escape to cause grievous mischief another day though, yes? And our villainess is no exception. While in La she planned her revenge for a long, long, very long time and found a way to escape.
"We definitely know who that feather belongs to," Fiddler began.
"Yes. Although how she escaped…escapes me at the moment," Wilbur responded with a woeful expression in his big owly, black eyes.
"That is not our problem right now. First, we need to find her."
"Then we are going to need help and a lot of it."
Fiddler nodded, deep in thought,
"Yes, you're right, of course."
"And I'm thinking of-"
"Fizzy."
"Yes."
The two friends in accord, they sent Sassy the Pigeon to request her presence.
Fizzy Frazelli, a foxy fox with her beautiful amber coat, fluffy snowy-tipped tail, and Italian accent was eager to help out. To assist in saving the Great Holiday Making Tribe and the forest was a worthy and noble cause. Who could refuse? Though foxes don't feature much in human holiday tales, being clever and pretty they certainly do have their place and all places are important. Wearing a periwinkle sun hat, Fizzy arrived at Loy's bunny domain in record time, greeting Fiddler and Wilbur with a smile and a wink,
"You tell me what you need and I'll get my boys started."
Fiddler imparted the news,
"Fizzy, it's Glassy. She's back. Worse yet, we don't know what else she may have planned."
"Indeed, with the summer months upon us there is much to be put in order and set into motion. We daren't have a setback," Wilbur added.
To her credit, Ms. Frazelli's dazzling smile never faltered,
"Well, I'll just have to get a few of our neighbors involved. Don't you worry, we caught up with her last time, and we'll do it again."
True to her word, Fizzy enlisted the help of her foxy boys, and asked the coyotes for help, too. All of them clever enough to scent out even the most subtle of creatures. Wilbur flew over field, glen, and forest, Fiddler prowled through burrow, cave, and hollow, and the foxes and coyotes sniffed at every valley, ravine, and crevice. All of them searched for anything that would lead them to Glassy's whereabouts, but as the sun set that evening not one of them had found a sign. They decided to meet at Loy's, this way they could stand guard over their bunny friend, while he slept after the long Easter day of deliveries and appearances. Who knew if Glassy planned something more for their bunny friend!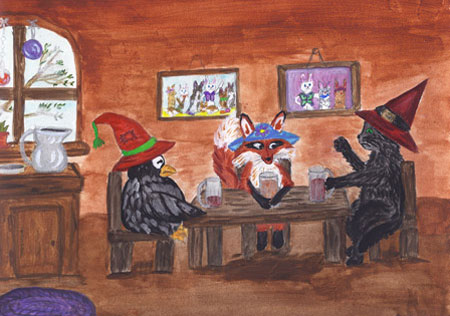 When they all met back at Loy's that night, Fiddler, Wilbur and Fizzy discussed their next move over large mugs of frosty root beer and maple creams. With a decisive click of his mug on the rustic table Fiddler stated,
"Right, we'll go back over everywhere again tomorrow."
"Okay, but I think we need more help," Wilbur suggested.
"Good idea. What do you think, Fizzy? Fizzy?"
"Hmm…I was only thinking."
She had Wilbur and Fiddler at the edge of their seats and when a few more moments passed they said in unison,
"What?"
Well, how did Glassy escape the Land of La?"
Fiddler and Wilbur exchanged glances.
"I am wondering if she's opened the portal to escape that perhaps-"
"She can open the portal and go back in," Fiddler finished.
"Oh, that's just fabulous. Anyone want a refill?"
Fiddler and Fizzy held out their mugs to Wilbur. He began pouring more root beer and suddenly stopped.
"I just thought of something worse."
Fiddler felt the hair along his spin rise,
"What?"
"If she's able to come and go as she pleases and has taken Loy's helpers and the spring flowers to La, what if she can bring-"
Fizzy gasped,
"No!"
"I hope you're wrong, Wilbur," but even as he said it, Fiddler knew Wilbur wasn't wrong. It explained that scrap of dirty gold scarf…
To be continued next month!

Illustration "Glassy Croon" by Intricate Knot.
Illustration "What to do?" by Angelique Duncan. Appearance of Wilbur with permission of Intricate Knot.
Intricate Knot is proprietor of Cards For A Gloomy Day.Check out her artist page to find links to her shop and blog to read more of her writings. Visit again next month for more adventures of Fiddler the cat.