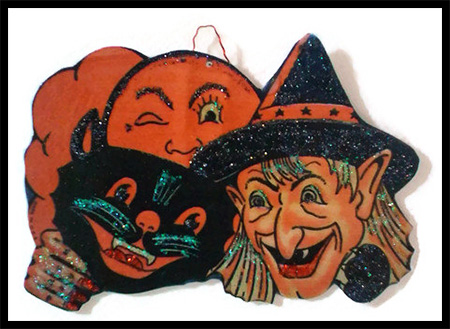 To find where Jennifer of A Paper Witch sells her wares visit her on her artist page on HAB. 
Interview with Jennifer Mahoney of A Paper Witch:
At what age did you discover your love of Halloween?
I think I always loved Halloween as a young girl, but around my 20's is when I started collecting vintage Halloween. Now at 40 something…I still cannot pass up most Halloween décor!


What is your fondest Halloween memory?
My fondest Halloween memory so far is putting on a Halloween party for a group of 4H children. The old style games where such a hit. We also had a haunted forest that they where driven to. Since that party, those kids have put on a Haunted Barn at the local fairgrounds. They all come back from college or family time to create an awesome spooky event. Who doesn't just LOVE to put on a costume! 

How do you celebrate Halloween?
Last year we moved and bought a Victorian 1880s home. We now decorate it and enjoy having over 450 treaters stop by. I wear one of my many witches hats!


When did you start creating in your medium and what training have you had?
I create all year around! No training, just love vintage and art.

What was the inspiration to create what you create when did you know
you wanted to create Halloween?
My inspiration for my ornaments comes from my love and my families' love for antique ephemera. We have a huge collection of vintage paper. And Halloween just happens to be my favorite! Who doesn't just love the color orange!