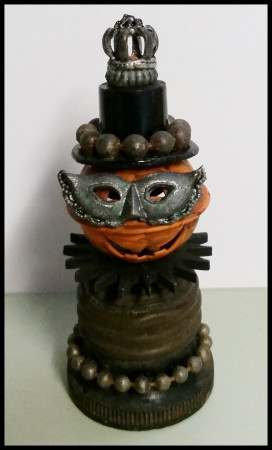 To find where Barbara of PunkinPrims sells her wares visit her on her artist page on HAB. 
Interview with Barbara Rondello-Bucher of PunkinPrims:
At what age did you discover your love of Halloween?
I have loved Halloween as long as I can remember! When I was very young, and that was a LONG time ago!, I had a bulletin board in my bedroom. I would cut out and decorate Jack O Lanterns and pin them on my board in the Fall. And of course, there was the CANDY! We used pillowcases and went out begging for hours. I just love the colors of Halloween and Fall. I don't know what the draw is to them, but it feels just right inside.
What is your fondest Halloween memory?
Pouring all the candy on the floor with my brother and trading the pieces we didn't like. Also he didn't care about the pennies so I always traded candy for the pennies, which is surprising since I am a sugar addict!!
How do you celebrate Halloween?
I have as much Halloween decorations as I do Christmas and that's A LOT! I get a little carried away. There are orange lights all over the place too! I don't have kids but somehow, there ends up being at least 8 carved pumpkins on my porch and stoops. Hehe! I put on a cape and witch hat and pass out candy. I just love the whole season.
P.S. I have Thanksgiving decorations too….
When did you start creating in your medium and what training have you had?
I have no training at all. I have always been creative and a vintage "collector" so making little pumpkin folks out of old junk just came naturally. And honestly, the hunt for more junk is just as much fun as the creating. I can be at a garage sale and see an old funnel and think GREAT DRESS FOR A WITCH!
What was the inspiration to create what you create when did you know
you wanted to create Halloween?
I bought a huge box of clock gears at a garage sale years ago and they just looked like collars to me. Next thing you know I was making pumpkin and witch heads out of clay so the gears could be collars. It just took off from there.