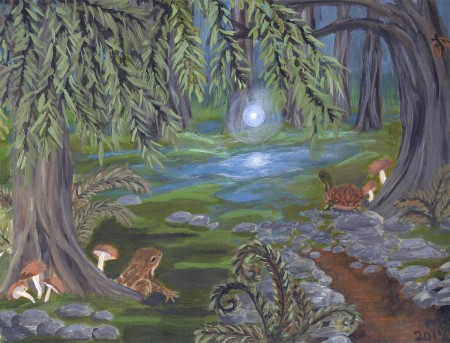 The Will o' The Wisp
-By Angelique Duncan
Will o' the wisp quite literally meaning the will of the wisp. A thing that is completely hopeless yet perused despite the difficulty and even impossibility of ever finding or catching it. Wisp being a torch made from burning straw.
On nearly every continent a phenomenon exists that has never completely been explained: glowing lights that appear and hover over the ground. Most commonly they have been sighted in marshy places such as swamps, ponds and rivers although there are some regions where they have been seen in the thick of forest, in prairies and desert mountain ranges. Sometimes they are seen in cemeteries. Usually no bigger than a fist, although there have been reports of small lights the size of candle flames and others the size of a melon. The colors vary as well. Typically they are described as white with bluish or greenish tint, although yellows, oranges, violet and red lights have been seen. Despite the variations in the lights that have been described there are two universal consistencies to the phenomenon. First, these lights cannot be captured and when observed they seem to interact with the viewer by following or "leading them". The second is that they are not completely explained by science.
Early theories explaining the lights are that they are formed from methane gas escaping from the earth and spontaneously combusting as it is released. A more sophisticated theory is that the lights form from a combination of phosphine, diphosphane and methane produced from decomposed organic matter and create phosphoric acid when in contact with water vapor and ignite by photons released when in contact with oxygen. These theories could account for glowing spheres seen in marshes and swampy areas.
Other theories are that the lights are an electrical phenomenon of random ball lightening formed from naturally occurring electricity in the air. One belief is that as fault lines move piezoelectric materials such as arsenic or quartz are heated and escape through water vapor causing an electrical reaction, a possible explanation for the lights seen over desserts and prairies if those elements are present.
The lights have been attributed to being the result of bioluminescence in which luciferin is released and reacts with oxygen to emit a greenish or bluish light. Bioluminescence occurs in fireflies and glowworms and a handful of other creatures and insects. Some fungus and algae's produce this glowing affect attributing the occurrence of glowing spheres to spores being released in clusters causing the glow affect.
Perhaps to a certain degree one could say that any one of these scientific theories would be a sound explanation for the sightings of hovering glowing orbs over landscapes. Except that in some regions and continents where the will o' wisp have been seen the aforementioned conditions aren't present to create them. Another inconsistency is that the descriptions of the lights that have been reported are not exclusively consistent with the light effect that would be produced by the environments and reactions stated by the theories. Witnesses have claimed to see light emitting orbs that are bright enough to illuminate their surroundings and others claim to see faint translucent flickers with their light contained.
Other explanations exist explaining the will o' the wisp. Their reason for being may be found in folklore and legend. It is widely believed across European counties that the wisps are faeries or magical elemental beings. Depending on the region the mysterious lights are interpreted through folklore as mischievous faeries that use their "fairy fire" to trick travelers into following them, only to leave them stranded in a bog or marsh far from the path the traveler was on. It is said the lights resemble torches or lanterns from a distance causing a lost traveler to be drawn to them in hopes of finding their direction back to their village. One of the most widely held beliefs is that they are faeries who either are mischievously attempting to trick travelers into following them, either to lead them to the faerie realm or merely to guide them from their path and cause confusion.
Others say the lights are not faeries, but wicked goblins of the Pooka or Puca variety whose intent is malicious and wish to kidnap or cause harm to humans by tricking a wandering traveler into following them to swampy places from where the person is never seen or heard from again.
Different versions of this mythology exist in Mexico, South America and Asia. The stories are nearly identical to the European tales yet the explanation as to what the lights actually are differs. In Mexico and South America, the lights are associated as witches casting spells, luring humans to follow them for sinister intent involving witchcraft.
In Asia the lights are believed to be the wandering spirits of the dead. Ghosts who have not passed into heaven, destined to stay on earth. The deviation of the story, being that the lights will appear over open waters to lead fishermen astray from shore. Some believing them to be the ghosts of dead fishermen or people who have drowned and whom wish to bring more souls underwater to live with them.
These stories of "ghost lights" corresponds with Norse and Scandinavian mythologies that the wisp are believed to be guardians of ancient graves, protecting them from desecration by leading people away from the burial spot. In many cultures spheres have been sighted in graveyards and cemeteries.
Some say they are the spirits of the dead looking for companionship by leading souls to their graves where the lights trick them into the misfortune of staying. A similar folklore states that the lights are a warning of a pending death and that a funeral will be held soon. Some traditions tell that the lights will appear close to buried treasure and if one is brave enough to follow the light and survive they will be rewarded with the riches. No one to date has returned from following the floating lights bearing treasure.
In Europe another common theory is that the floating lights are the souls of unbaptized children forced to stay on earth until they receive baptism. The legend goes that a man of faith came across three unbaptized travelers who asked to be baptized and when the man went to baptize them the souls of all the un-saved children of the earth appeared with hopes to pass into heaven. The man spent the entire night baptizing souls until the sun rose. Those who he did not baptize that night are said to be the lights of unbaptized children who wander the earth.
A variation to the myth is that the lights are the souls of scoundrels not allowed into heaven and rejected by hell. Many cultures associate the will of the wisp with the origins of Jack o' lanterns, that the lights are souls who are trapped in a cold dark hell on earth and have been given only a lump of coal to light their way and keep warm.
Not all mythologies surrounding the wisps are foreboding. Some stories tell that the lights are benevolent in nature. Pixie lights are pixies who live in the deep of woods who if treated kindly and with respect will help lead a lost traveler who has gone astray back to the path home. Hence the meaning the will of the wisp in that only the barrier of the wisp torch will decide one's fate.
Sightings of explained lights that hover over water and land have been documented through out history and sightings continue to modern day. As to what or who they are there is no solid single explanation. Perhaps they are the elegant result of chemicals and electrical phenomenon. Maybe they are something ancient and enchanting. There isn't a definitive answer, thus the will o' the wisp remains a mystery, and that in and of itself is something magical.
Image "Will Of the Wisp" Copyright Michelle Angelique Duncan
Angelique Duncan is proprietor of Twilight Faerie Nostalgic and Capricious Objects. Check out her artist page to find links to her shops and vintage inspired traditional holiday art. Visit again next month for more traditions and folklore.