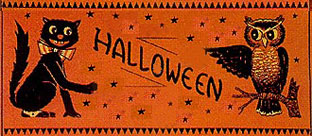 Happy Halloween-By Angelique Duncan
For many of us we long for the first snap of a cool front and the spiced scents and pumpkin flavors of fall. The first fallen leaves are a welcome signal that it is coming. We notice the sun begins to set differently in the late afternoons and the moon hangs more prominently with a greater glow in the night sky. The call of a distant crow and the grackle comforts us. The orange and black is our banner and the grinning carved pumpkin our friend. We are Autumn people and we carry with us, a love for Halloween.
We wait all year to unlock our spooky decorations from their captivity and set them free displaying them about in our homes. To us, those figurines and die cut window cut outs are our familiar family come to visit for a while. We carry out the ritual of selecting the greatest pumpkin; one that is not too tall, not too round but the perfect canvas upon which to carve a creepy or cleaver face to scare costumed knockers who dare grace our porches and stoops. For those who do dare; we fill large bowls with candy treats and give generously to those who will scream "Trick Or Treat"!
Why do we love Halloween? We just do. It is something inside us that is inherent, like the beating of the heart or taking breath into our lungs. We don't expect others to understand it, and often they don't. However for us, Halloween is special. It can not be separated from who we are.
To some it is a day of merriment and amusement. It is the joy of hosting costumed parties and Trick or Treat adventures. For children and adults alike, it is a time to dress in masquerade, hide behind the mask and for one night be something one is not. There is something magical to a child, that for one night to be whomever they want to be, staying up late to run the streets in the darkness of night knocking on doors demanding crazy amounts of candy; and the satisfaction that adults must comply with the child's demands of treats for threat of trickery.
Maybe for some of us celebrating Halloween is a way to capture the exhilaration of childhood memories of happy Halloween's past that we just don't want to let go of. October 31st is all the innocence, mischief and wonderment of youth wrapped in one orange glowing holiday.

Perhaps it goes further than childhood back into the antiquity of man to Samhian. Could the love of Halloween route back over 2000 years ago to a slumbering knowledge of ancient bonfire rituals on hilltops that stirs and wishes to be awakened? Maybe some never really forgot the ties to seasons and moon cycles. Perchance the need to celebrate what is now Halloween is a vestige to long gone practices and insights into the spirituality of this realm.
Halloween is second most popular holiday in America, second only to Christmas. The fascination with the day is gaining popularity in other countries as well. Possibly as a passing fad or it is a part of our collective history and culture that demands to be acknowledged. Through out time in some form or fashion, under many names whether as Samhain, Witches night, Beggar's Night, All Souls Day, Hollow's Eve or Day of the Dead or Halloween; it has been celebrated. From bonfires and carved pumpkins, sheet ghost and costumes, crepe paper and wax to sugar skulls it takes it's form.
Autumn people take comfort that that we are not alone, there are others out there. Others who feel the tug of an October wind and come the 31st, they will keep their Jack o lanterns lit for the love of Halloween!
Angelique Duncan is proprietor of Twilight Faerie Nostalgic and Capricious Objects. Check out her artist page to find links to her shops and vintage inspired traditional holiday art. Visit again next month for more traditions and folklore.