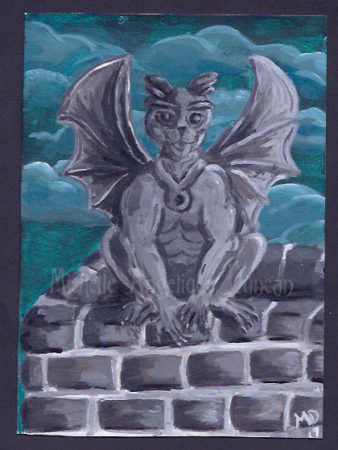 Gargoyles and The Grotesque
-By Angelique Duncan
Have you ever been walking in an urban area at night and thought you saw something move in the shadows or felt that some one or something was following you? When you look, nothing was there. Or was some one there after all. There is the possibility that feeling of being watched was a Gargoyle or perhaps a Grotesque that indeed was watching you.
For centuries they have loomed above us on the tops of buildings ever watchful and present. They can take the form of animals and winged things, monsters and demons and even sometimes something human. To some they are frightening and to others comforting.
The original purposes of Gargoyles were to act as a waterspout to direct rainwaters from the roofs of buildings. Some appear with long necks with their mouth agape to release water; others appear intertwined in the architecture or buildings. The name Gargoyle became associated with all creatures found in the design of buildings or statues that were made of stone. The word Gargoyle literally translates to gullet or "throat" thus how the rainspout monsters arrived at their name. Ornamentals and stone statues that depicted winged creatures or animals were referred to as Grotesques. Eventually the term Gargoyle was used for all stonework depicting creatures.
Gargoyles originally took the shape of animals and appeared in ancient Egypt and in Greek and Roman architecture. These animal shapes were used to honor the ferocity of the creatures, to show strength of an empire and they acted as beloved protectors to the buildings. The ancient Greeks believed that the stone animals purified water that came from the heavens and protected their buildings from misfortune.
Many European Gargoyles took on the shape of long necked dragons. This practice came from a French legend of a monstrous dragon that was slain. The legend states that the dragon Gargouille was killed and captured and brought back to the village. Once there its body was set ablaze. However the head and neck would not burn as it was acclimated to high temperatures given it's fire breathing properties. The remains were mounted to the church as a warning to other dragons and to ward off evil spirits.
In Europe as the Catholic Church grew dragons were replaced by anthropomorphized animal human figures to emulate Pagan imagery in an effort to convert Pagans to Christianity. The imagery was to make the Pagans more comfortable with Catholicism and show that only the Church could offer protection from evil.
As the Church became heavier handed the Gargoyles began to take on more frightening motifs depicted as demons and monsters. Their purpose was to remind sinners that only through the Church could one find salvation. The Gargoyles loomed above protecting the churches from evil and acting as a visual reminder to all of the horrors of hell that awaited those who sinned.
Gargoyles or Grotesques were erected in graveyards and gardens to protect against spirits and as a constant reminder to sinners. It became common practice to place a Gargoyle spout on ones personal home or garden. Some of these personal Gargoyles were to emulate the protections offered by the Church, however some were used to preserve Pagan imagery and themes. Many stone workers would carve the faces of deceased relatives or friends into the Gargoyles to honor them.
As time moved on and the Church had established it's power the need for the horrific imagery of Gargoyles shifted. People began to feel that were too evil looking and the use of demonic imagery on the church was inappropriate. Many of the original Gargoyles were removed and replaced by decorative animal imagery. The custom of Grotesques in personal gardens followed suit, and the use of stone lions replaced Gargoyles as protectors. This eventually gave way to the use of the imagery of angels and cherubs on the side of buildings and personal statue use for protection. As the modern era of architecture took hold, the use of ornate stonework was abandoned and with it, the need for Gargoyles and Grotesques as protectors faded.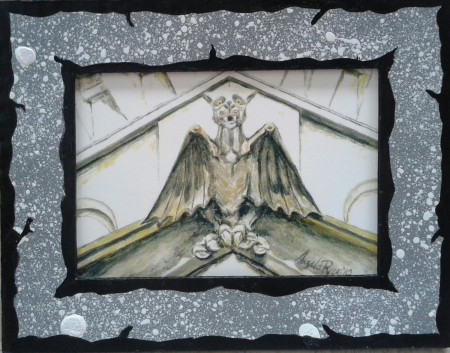 There were legends attached to these antiquated stone creatures history. Some say that they truly could see from within their stone exterior. It was customary for those who respected the beast to nod at them when passing. It is said that the Gargoyle would nod in turn out of respect.
Many believed that Gargoyles and Grotesques would come to life at night and would either fly or prowl over a village or city protecting against evil. They would return to their perches and turn back to stone when the sun rose. Some believed that rain could strengthen the stone creatures powers.
Folklore exist that the Gargoyles that were removed and abandoned from buildings were rewarded for their service of protection by the angels. It is said that they were gathered up by the angels and taken to safe places. The angels gave them the gift of mobility. It is thought that they would hide on the tops of buildings and dark places of cities during the day and would move freely at night. Belief was that they would only show themselves while animated to those they felt were true of heart and enduringly good. For those who were good could look a Gargoyle or Grotesque in the eye and recognize the nobility of the creature. From this a bond based on goodness would be formed.
The next time you are out at night walking your city keep watch of the shadows and up at the sky. You might be so fortunate to see a Gargoyle or roaming Grotesque spared by the angels. If you have confidence that you are good in intentions look them in the eye, say thank you and give them a nod. If they deem you worthy and pure of heart they will nod back.
Painting "Gargoyle" copyright Angelique Duncan -Twilight Faerie
Painting "Oakland Gargoyle"copyright Angela Ryer A. Ryer Studio and available for purchase from A. Ryer Studio on Etsy.
Angelique Duncan is proprietor of Twilight Faerie Nostalgic and Capricious Objects. Check out her artist page to find links to her shops and vintage inspired traditional holiday art. Visit again next month for more traditions and folklore.