The Holiday Must Go On
By Intricate Knot
"My soul is painted like the wings of butterflies;
Fairytales of yesterday will grow, but never die;
I can fly, my Friends.".
~Queen
On their way to save or perhaps duel Crimson (last of the Winter Wizards) and definitely duel Diavix Clop (all-around-creepy-villain) Fiddler and Wilbur (esteemed members of the Great Holiday Making Tribe and our heroes) came to the aid of Vin Kaj (Autumn Pumpkin Wizard Extraordinaire). In truth, they had been seeking his aid, when it turned out their services were much needed by Vin Kaj who was having a most difficult (and strenuous) time putting Summer to rest. Well, he'd never had that much trouble killing off Summer before! That must have been the doing (or not doing) of Crimson, last of the Winter Wizards, yes?
Ah, have you not learned anything from these knotted tales, dear Reader? Nothing is ever, ever as straightforward, as we would like. Then again…things are often far simpler than we ever give them credit for…
Riding on Vin Kaj's grand pumpkin back certainly made the journey to rescue Crimson much quicker! The strides he made on his long brawny, green vine legs were tremendous! Fiddler and Wilbur bounced and jostled atop the beautiful orange expanse of pumpkin, though it wasn't terribly comfortable. The two dodged tree branches, while hanging onto Vin. The Forest became a blur of greens, golds, and browns as they whizzed past brush, bush, and tree.
Their thoughts picked at them all. None of them really knew what had become of Crimson. The speed, bouncing, and jostling were so great that conversation of any sort was quite impossible. Each kept their own counsel…
Sleek feline Fiddler nurtured a shimmering trust in his big kitty heart that his Magickal Mentor of by-gone-days continued to be as he has always known him to be: Of sound mind, body, and most importantly, Spirit.
Could the ill-famed Diavex Clop somehow have turned Crimson into a Waywardly Wicked Wizard? Wilbur's logical and often cantankerous owly-raven brain asked. He worked and worked the question in his mind to nearly the point of exhaustion, wanting to make absolutely certain that he didn't reject the notion simply for the sake of his good friend, Fiddler. And came up with the answer…a resounding "no," Crimson has not been turned. This is irrefutably impossible.
And Vin Kaj? As a fellow wizard, he harbors not a whiff of doubt in his great pumpkin head or heart. His only thought was to get to Crimson as quickly as possible. Sooner even that…
Dear Reader, if we take our heroes hearts and minds into account (and how can we not?) it can only mean one thing…coercion. Is Diavex Clop somehow forcing Crimson to help him keep things hot, sticky, and humid in The Forest? Eeeeeeee yuck.
"Wait. Hold up, Vin Kaj," Fiddler implored.
Once an Autumn Pumpkin Wizard Extraordinaire gets going, it is a herculean feat to get him to stop. Even for himself! Viney tendrils shot out from his toes, grasping passing trees, boulders, or brush, anything to slow them down. He swerved, swung, and skidded along pebbles, strewn leaves, and bits of twigs along the path nearly upending himself, along with Wilbur and Fiddler. Vin held onto Fiddler and Wilbur, Wilbur and Fiddler held onto each other, and everyone held on for dear life! Dear life? Yes, for straight in the middle of their path, the path they could not seem to stop themselves from hurtling along, stood a Grand Old Oak. Lovely, amazing, and awe-inspiring at any other time, mind you, but not when one is hurtling towards its sturdy trunk the width and height of a small mountain! If any of them were the sort to shriek in terror, this certainly would have been the time for it. Luckily, the time for shrieking-in-terror passed, as they finally came to a stop, a nose-breath's distance from rough, brown bark of Grand Old Oak.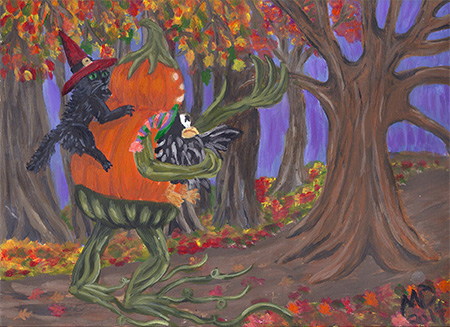 Phew.
Fiddler and Wilbur tumbled off Vin Kaj's back. They all heaved sighs of relief and worked on pulling themselves back together.
"So, what was that about, Fiddler?" Wilbur asked calmly.
"Um…I just wondered, where are we going?"
"To save Crimson, of course," Vin interjected, though not quite as calmly as Wilbur.
"Yes, but where are we going?"
Wilbur opened his golden beak to speak, but then promptly closed it. Vin shook his head with a grin, then sat on a convenient boulder. A Thinking Boulder.
"Why don't you tell us, Fiddler? I'm afraid that I really don't know."
"I don't know, either," and he leapt up onto the boulder, sitting next to Vin. They both looked expectantly at Wilbur.
"Mmm, I may have a theory."
"Which is?" Boomed Vin.
"I believe we're running in circles, which is just what Diavex would like us to be doing," And with a flap of his black wings, he joined his companions and perched on top of the Thinking Boulder. He thought for a moment, then said with conviction "Well…this is the Most Magickal Time of the Year-"
"When goats are jingle belling-" Fiddler continued.
"And even salmon go caroling-"
"And most everyone is wishing you Good Cheer," Vin finished.
"Everyone except Diavex Clop," Wilbur said sourly.
Hmm…they were all thinking again. Not a bad thing, for these three had quite a handle on their powerful minds.
"Diavex tried to stop Halloween," Vin Kaj offered.
"Yep. And now he is trying to stop us all from celebrating Yule," stated Wilbur.
A look passed between the two friends, dear good friends who had been end-to-end of this Universe and beyond together.
Fiddler shook his head decidedly,
"That cannot happen. If he stops Yule, he stops the New Year."
"And if he stops the New Year?" Vin asked.
"He will stop the Great Holiday Making Tribe-" Wilbur explained.
"There won't be any holidays," finished Fiddler. "And what a sad, Diavex Clop world this would be."
"Worlds, actually," Wilbur reminded.
"Yes, worlds," Fiddler agreed.
"So, what do we do?" Again, Vin posed the question.
The question that made their bellies sink.
It broke their hearts, but they all knew what they must do. Well, actually, they didn't "know" they only felt what was right. Feelings can sometimes be confusing. Are feelings always right? Hmm…that is a very good question, dear Reader. I will go out on the proverbial precariously lengthy limb of the proverbial sturdy tree (sturdy as the Grand Old Oak) and say that yes, feeling are always right, even when they hurt a bit (or a lot) and in fact are especially true when they hurt a bit (or a lot).
Vin and Wilbur held back, wanting to give Fiddler time. Being a cat, Fiddler possessed both grace and speed in abundance. Wordlessly, he leapt from the boulder and nodded at his companions.
Abandon the rescue of Crimson. Unthinkable, but the right thing to do. Back to the Heart of the Forest the trio went. Deep in the center of The Forest lay, the Golden Heart of It. The Magick of Holidays beat here, stretching Its' beams of light and beauty for all to see, even if they should choose not to partake.
The three had a great deal more work ahead of them…happy work though they grieved for their friend Crimson. The Party-of-the-Century, the Holiday-to-Begin-and-End-All-Holidays needed to be planned and prepared for and celebrated…Yule rules the day. A Merry Yule is sure to rid the Forest of Diavex Clop once-and-for-all. Besides, regardless of circumstance, the Holiday Must Go On.
To be continued…quite soon!

Illustration "Grand Old Oak" by Angelique Duncan. Appearance of Wilbur and Vin Kaj with permission of Intricate Knot.
Intricate Knot is proprietor of Art For A Gloomy Day.Check out her artist page to find links to her shop and blog to read more of her writings. Visit again next season for more adventures of Fiddler the cat and his best pal Wilbur.