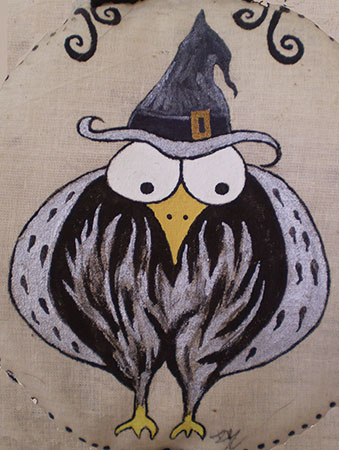 The Owls on Halloween-By Angelique Duncan
Owls have always been associated with Halloween. Often they are depicted as secondary characters in vintage postcards and decorations to other Halloween symbols. Owls can be seen circling overhead or in the skyline with witches, ghost and others familiar spooky icons. However, in recent times they have become more prominent and have become a popular main character in the cast of Halloween imagery.
By virtue that they are nocturnal, they carry an air of mystique. Their appearance has all the features of something mystical; large oddly blinking eyes, a head that turns in an unnatural fashion and sharp claws on their feet. Some scream and screech, some hoot and coo with voices that drift over darkness often heard, but never seen. Depending on the culture and era owls have been perceived to be scary creatures of the night or as wise messengers and protectors.
Owls are thought to be one of the oldest of the bird species and perhaps their association with wisdom comes with the inherited age of the species. The notion that owls are wise may also come from their association with Athena the Greek Goddess of wisdom. In many cultures they are seen as intelligent, observant and helpful messengers.
Owls and an association with Halloween go way back to ancient Celtic times and Samhian. Owls could be seen flying and swooping near Samhain bonfires. It is reported to have been a common scene. Given the nature of midnight celebrations and the association with the "witching hour" and the presences of the nocturnal creatures, owls became connected to witchcraft through their frequency in legends and symbols of witches.
One folklore states that if one sees an owl flying or circling low during the day they are bringing an omen or news that will affect the person who see's them. This is not necessarily a bad thing, as it is a warning to prepare the person and an action of protection, although foreboding.
Some believed that an owl perched on a house or in a tree near a house is a warning that someone will die in that home or that something evil will happen there. In other folklore it is believed that an owl perched on ones roof is offering protection from evil. Many believe that to see an owl during the day is an omen and to take heed. It is said to see an owl at midnight is bad luck.
It has been thought that owls, due to their wisdom are the familiars of witches and they will carry messages for them. Other myths state that owls are themselves witches that have shape shifted to travel undetected under the cover of darkness.
Over the centuries and continents there have been numerous legends and stories of owls as deities, demons or gods, some benevolent and some of ill intent. Two popular folklores originating from Mexico and Texas is sightings of the Lechuza and of the Aswang. Often in the Autumn and near Halloween. The Lechuza became a popular image during the romanticized Victorian era. It has an unusually large owl body with a human women's head. The Aswang is just the opposite having a human woman's body and an owls head. Both are said to be a form of witch transformed. Both are also said suck the blood of their victims. The Aswang is thought to attack pregnant women and steal their unborn child. Rumors have also risen that both the Lechuza and the Aswang steal children out after dark. Some legends report that when one hears an owl screeching or hooting at night they are trying to lure small children out of the house to take away to the woods.
Images of owls exist in almost every culture and the stories attached to them are wide and varied. Sometimes the evil villain, some times the voice of reason, a protector or warrior or wise sage. The owl wears many hats and only they know who they really are and their intent. So when you hear the haunting hoot off in the distance be warned, the owls may be talking to you.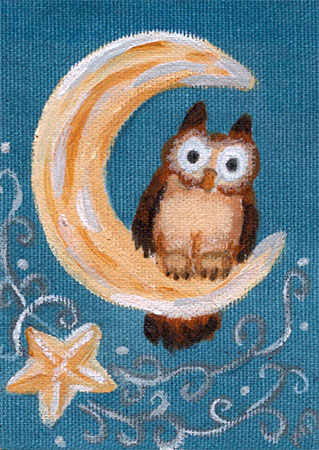 Illustration "Wilbur" Copyright Intricate Knot. To more of Intricate Knots art and where to buy visit her artist page Art For A Gloomy Day.
Illustration "Owlie On The Moon" Copyright Michelle Angelique Duncan. To see more of Twilight Faerie's art and where to buy visit her artist page Twilight Faerie Nostalgic and Capricious Objects.
Angelique Duncan is proprietor of Twilight Faerie Nostalgic and Capricious Objects. Check out her artist page to find links to her shops and vintage inspired traditional holiday art. Visit again next month for more traditions and folklore.