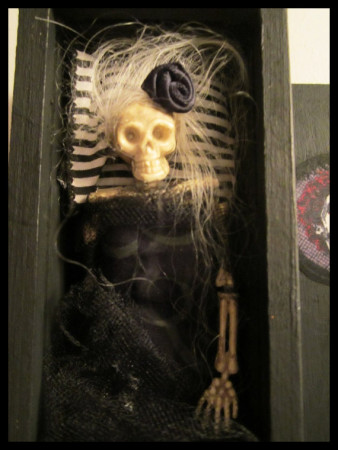 To find where Debbie of Sauvage Raven Creation sells her wares visit her on her artist page on HAB. 
Interview with Debbie Sauvage of Sauvage Raven Creation:
At what age did you discover your love of Halloween?
Out of the womb, in the womb? I loved Halloween as a child but I think growing up in the ancient era of the 1950's-60's I was subjected to the National Enquirer and Chiller Theater on channel 9 out of New York. I loved all things scary and weird way back when!
What is your fondest Halloween memory?
I loved the days of yore (again the 1950's-60's) when you were invited into houses and did apple bobbing contests and such. You could eat anything that was given to you without fear, such as homemade goodies!
How do you celebrate Halloween?
How do I celebrate Halloween? Have you ever been to Facebook and seen my pictures? LOL I ADORE Halloween and decorate to the max for the kids and maybe a bit for the adults too! I love to dress up and this is my night to be…the real me!
When did you start creating in your medium and what training have you had?
I don't really know when it all started. BUT I think I have always have had a creative side; it just never "came out" until the 2000's. I have had no training. Do they offer training somewhere for weird?
What was the inspiration to create what you create when did you know
you wanted to create Halloween?
What wasn't my inspiration? Vampyr, horror, scifi, witches, ouija, ghosts, skeletal remains, ravens, crows, dark, light, day, night, dreams, antiques, old dolls, bones, Tim Burton, Edgar, Vincent Price, Peter Lorre, Christopher Lee, Stephen King, James O' Barr, Shakespeare, the moon, stars and you know the rest!