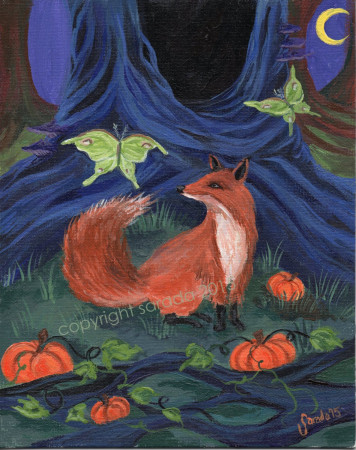 Foxes-By Angelique Duncan
After the rise of Christianity and the abandonment of animal spirits and totems, many animals once held in high regard for their enchanted qualities were reduced to suspicion and even thought of as evil. The fox has been a victim of this fate. In literature and fables they often take the role of trickster or antagonist, depicted as treacherous and dishonest creatures. At times they are synonymous with deception, cunning and manipulation. However the fox wasn't always painted in such a negative light.
Once upon a time foxes were held in great reverence. The fox has its place in mythologies ranging from ancient Greece to numerous legends from Asian and the Orient. They are prominent in the folklores of Nordic, Gaelic, Celtic and European cultures. The Native Americans and Eskimos acknowledge foxes for their magical qualities in their story telling. Pre Christianity, they were considered Gods of the Forest, symbols of prosperous agriculture, protectors and punishers of wrongs and loyal companions held with respect.
Foxes in ancient tales were often helpers who used their high aptitudes to guide humans or assist other animals. They were associated with intelligence, adaptability and rationing skills. Often depicted as finding a clever way to assist in a dilemma or out smart an adversary. The term to be "sly like a fox" comes from these observations of fox behaviors.
It was thought that a fox could out wit opponents by anticipating and planning for their next moves well in advance. Foxes have been said to be one of the most strategic of animals in their ability to evade predators and hunters. Foxes will seek shelter when they smell or sense danger long before of a predators approach. Foxes will use their tales to cover and disperse their own tracks and will leap in zig -zags touching their paws to low and high places to throw off their scent. Foxes have been attributed with psychic powers for their ability to foresee inclement weather by baying and whimpering before signs of rains or snowstorms.
The term vixen is used for a female fox, and in modern times has become equated with women of trickery. It was believed Foxes were shape-shifters. Often taking the form of a beautiful woman. To be "foxy" comes from the Celtic folklores of sleek attractive women, often referring to red heads of high intelligence, who would change into foxes. In many of these romantic legends as well as friendship tales, the fox is loyal and often will either save or change their companions life to the better as a way of showing gratitude for a debt or righting a wrong.
Due to the belief Foxes were shape shifters with high intelligence and psychic ability it was thought that they were companions to witches; or perhaps themselves witches. Foxes have historically and in almost every culture been attributed to have magic powers. A Finnish belief is that an enchanted fox is responsible for the aurora borealis or foxfire. The legend is told that a magical artic fox runs each night so fast in the snow that as his tale swishes back and forth it creates sparks that are captured with snow crystals that fly up into the night sky creating the Northern Lights. Another legend says that the lights are caused by a fox who leaps and runs over the mountains tossing snowflakes into the air changing them to the lights in the sky.
Who knows if the foxes are actually Gods watching the forest, shape shifting witches or magical creatures? Only they truly know. Should you make the acquaintance of a fox, be kind and respectful for they may become your next loyal companion or they may even save your life. However, do not cross them it is likely you will not out wit a fox.
Illustration "Twilight in Fox Hollow" provided by and Copyright Art By Sarada. To see more of V.Sarada Holts art and where to buy, visit her artist page Art By Sarada.
Angelique Duncan is proprietor of Twilight Faerie Nostalgic and Capricious Objects. Check out her artist page to find links to her shops and vintage inspired traditional holiday art. Visit again next month for more traditions and folklore.