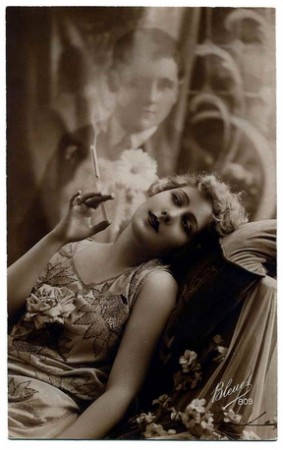 Living On the Other Side.
-By Debbi Decker
Have you ever had a dream that felt upon waking so real that you could swear it was happening in real life? Traveled in your dreams to a place that felt so natural and real that you knew where you were going and recognized the places you went in the dream?
I do this. All the time. And have done so since I was a small child. I have vivid memories of dreams that occur in locations that I can map out for you and give you directions of where to go in those places. When I visit these locations in my dreams, I usually enter them at the same "entrance", although after arrival I may visit a different spots within these places. Just like visiting a well-loved place in real time, my dream locations are full of variable weather patterns, textures, scents, landscapes, tastes and people. I come off the "exit ramp" into my dream worlds and go on to visit just like I would in waking life.
Strange you say? It gets even stranger. What about having a dream friend that you seem to see on a regular basis and have continual adventures with them?
I have a special friend that visits me frequently in my dreams. Each dream is a different dream, but always there is a sense of knowing, of peaceful togetherness, and total happiness that we are together. I get that feeling not just from me but from my friend too. There is never a sexual element but there is a sense of completeness. I always wake up from these visits with a smile on my face and overflowing happiness that will last for days. I will not give a detailed scenario of any of these dreams here since really the details only have resonance and meaning to me and would not really bring you any greater level of understanding or belief.
How to explain this? I am no stranger to dreams. I have studied them since I was a young girl, and understand the concept of the who, what, and why of how they occur. I do dream interpretation for others who are curious about their dreams and what they could possibly mean. The science is not lost on me. What IS lost to me, however, is how these dreams are so real to the point that I can still, more than a year after one particular dream, still feel the weave of my friend's shirt on my fingertips in my waking state.
Some people would say that these are manufactured scenarios that my subconscious mind has cobbled together in order to send a message to me. Some would say that I am a lonely individual who feels the need to have interaction with someone even if it only occurs in my dream state. I reject these explanations out of hand simply because I have investigated these possibilities many many times in an effort to explain this phenomena. After all, I am a Virgo. It is second nature to dig deep, analyze, and find answers to questions presented. I am also a fairly social person with various types of relationships in my life and am finally at a place in life where I am pretty much happy and content with myself and my lifestyle. Sure, there are things I would change, as anyone would. That's why the caveat "pretty much". If I were to be completely content, there would be no room for growth and new things. So "pretty much" is actually a great state to be in.
So, yes, I do not subscribe to the theories given above. The main reason is that after receiving a dream visit from my friend, upon waking there is no yearning, no sadness, no wishing for" what if?". These visits are full of detail, sensory perceptions, and activity. Not all of these dreams are completely happy. Sometimes we have moments of sadness or difficulties just as anyone would in real life. There are no nightmares here. No strange beings, fantastical beasts or fantasy. Just living a normal life on the Other Side.
Given my personal spiritual beliefs, I believe that my friend is my soul mate who, throughout time, has been with me and will continue to be with me, no matter who I become or who my friend becomes. There is a deep love between us. We played together in my dreams as children, and grew up together. We share our feelings and the details of our lives on this side. Once, in a dream, I told my friend that I was old. My friend, said "No, you are not. You are you."
Perhaps I am crazy. Who cares? After hearing that comment by my friend in that dream, I would not trade crazy for the world. Would you?
Debbi Decker is proprietor of twistedpixelstudio Art & Assemblage Emporium. Check out her artist page to find links to her shop and blog to read more of her writings. Visit again next month for the telling of hauntings and ghostly tales by Debbi Decker.