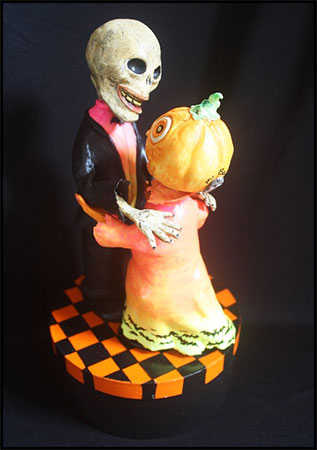 To find where Mr.Bony's Nurse sells her wares visit her (and Mr. Bony) on her artist page on HAB. 
Interview with Linda of Mr.Bony's Nurse:
Which pieces of your artwork are you most proud of, currently for sale or sold? Share an image of it if you have one.
Mr. Bony would say that he is very proud of all his little creepies. They live within his head at all times & they all get along so well.
I on the other hand, would have to say that it was a piece he did a few years ago & is currently sitting on my shelf behind my desk. It's a skull with a worm in it, he calls it "worms crawl in, worms crawl out". It's a battery operated "mover & shaker" & it has great animation. The worm rocks from side to side as his tail (do worms have tails?) spins around out of the skulls nose (do skulls have noses?) It makes me smile every time I look at it.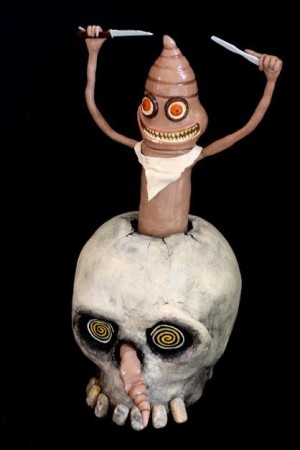 Name an artist(s) whose work you admire and what influence have they had on your art?
I don't know what artist(s) influence Mr. Bony but I do know that he really admires several Halloween folk artists that work in his medium (paper mache). First & foremost would have to be Scott Smith of Rucus Studios as well as Jack Roads. Their sculpting abilities are incredible & the imagery is fantastic. I have seen Mr. Bony also looking at work from Matthew Kirscht. He has a wide variety of work that is so much fun to look at.
What would you consider the highest honor or greatest goal you would like to achieve with your art?
I think Mr. Bonys highest honor has already been accomplished. He is so lucky to have so many fans & collectors of his work.
What is your favorite Halloween icon? Why do you identify with its imagery?
Mr. Bony said that it has to be Jack O Lanterns. They all have such different personalities. Just like him.
If money and wherewithal were not an issue, what would be your dream way to spend Halloween?
Because Mr. Bony can't leave Ocean View I guess it would be for him to get out of here & trick or treat like a kid again. Running up & down sidewalks & knocking on doors screaming "trick or treat" filling his bag with gooey goodies. Yea..I think that would be his dream come true.