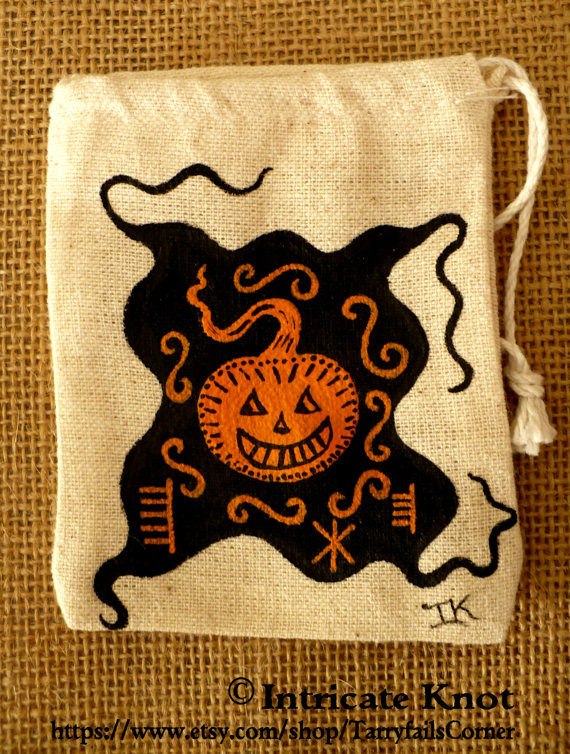 To find where Intricate Knot sells her wares visit her artist page on HAB. 
Interview with Intricate Knot of Art For A Gloomy Day and Tarryfails Corner:
At what age did you discover your love of Halloween?
My love of Halloween began several lifetimes ago, at least a few centuries. Hope there aren't any witch hunters out there reading this!
Seriously, my love of Halloween did begin over a multitude of pagan incarnations. In this lifetime it is pure icing on the Jack O' Lantern. From the time I was first allowed out of the house to Trick or Treat (somewhere around the age of 6), I realized that Halloween is the best thing going.
What is your fondest Halloween memory?
This is a challenging question, as all my Halloweens are filled with fond memories. If we're talking this lifetime, putting together costumes for my son's trick or treating adventures. We didn't have a lot of money, but we loved getting creative with my brother's old make up kit (from his theater days). One year, my son transformed into the Terminator. Resplendent with partial robotic skull exposed (alá scar putty, oozey fake blood, and humble tin foil), and the ever-important black leather motor cycle jacket. Schwarzenegger eat your heart out.
Recently, I would have to say the first year after I joined HAB and participated in the Trick or Treat Giveaway. It was a first in many ways, not the least of which it was the first time I'd ever participated in a giveaway. It gave me such a wonderful feeling seeing a photo of my offering lined up next to such amazing pieces done by the other artists in the group. I felt like, phew! It's been a long time coming folks, but I finally found my tribe.
How do you celebrate Halloween?
If time and energy allows, Halloween celebrations begin with some kitchen magick: making candy apples, apple pies, cinnamon potpourri, simmering, savory stews…and the list goes on! My husband and I decorate our sizable patio and our house. Stringing up candy corn lights, red skulls, and glowing purple LEDs…oh my!
Halloween is the great no-pressure holiday. It's more than that, though. There is the entire season of autumn…the snap in the air, the energy that all builds to the day itself. The images, art work (especially the creations of our group!), sheer fun (and horror), not to mention the most excellent treats and tricks of Halloween is a spirit that I carry within all throughout the year.
When did you start creating in your medium and what training have you had?
Well it all started with a doodle of something that looked like a cross between a gloomy gene and a disgruntled meatball. (Hopefully) I have improved from there. I've had no training what-so-ever or at least not in any formal capacity.
When I was a kid I wrote stories and doodled pretty much 24/7 and by the time I reached the age of 16, I'd decided that this was what I was meant to do with my life. Then [insert dramatic music here], I allowed one teacher's opinion of my work dissuade me from this course. Years went by. Then one day, I had the proverbial epiphany (more like a swift kick to the head) and now I just don't look back. I still doubt my work…I think all artists and artisans do. Just part of the package! But the difference is now I keep going, despite the doubts.
What was the inspiration to create what you create and when did you know you wanted to create Halloween?
I've always loved all of the symbology of Halloween: witches, black cats, Jack O'Lanterns, scarecrows, ghosts, goblins, things-that-go-bump-in-the-night, ravens, owls, haunted trees, and on goes the list! Artists are inspired by what draws them in and Halloween draws me in. It's simply a magical time and the only time of the year when it's not only okay, but you're actually encouraged to come out of the proverbial closet and be a witch, which is freeing. That's what inspires me.