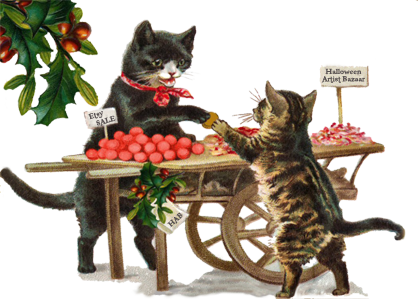 Black Friday & Cyber Monday Sales from Halloween Artist Bazaar members. Check out each individual shop for savings on one of a kind hand made holiday gifts!
3 promotions this holiday season. I will offer 10% off all purchases on Black Friday with the promo code "BLACKFRIDAY". I will offer free shipping (US only) on Cyber Monday with the promo code "CYBERMON" and for the 12 days of Christmas (Dec. 13 – Dec. 24) I will offer 12% off all purchases with the promo code "12DAYS".
HOLIDAY SPECIAL!! Use coupon code FREESHIP for free shipping on fine art prints, cards, aceos and tags until midnight 11/26/2012. EXCLUDES jewelry, OOAK, mixed media, altered art and assemblage items.
Storewide sale for Black Friday, Small Biz Saturday and Cyber Monday!! Stocking stuffers under $10 are in my stocking stuffers section~ These are great inexpensive gifts that you can give anyone including a boss, co-workers, friends, teachers, anyone!!!
Storewide sale Thanksgiving through Cyber Monday, Coupon Code "NOSTALGIC1122" for 10% off everything in my shop. Free gift with every purchase made Thursday through Monday.
FREE GIFT WITH ANY ORDER OVER $20 . I can gift wrap at no extra charge. If you want to send something from my shop as a gift to another person I can. COUPON CODE "BLACKFRIDAY" FOR 15% OFF FOR THE ENTIRE WEEKEND FROM BLACK FRIDAY UNTIL CYBERMONDAY! excludes supplies.
HOLIDAYS FOR 10% OFF ALL ITEMS in all Janis Logsdons' shops
jansbeads.etsy.com
janissupplies.etsy.com
janislogsdon.etsy.com
for 10% off all listed items. Coupon good through Dec. 14
All of my handmade cards and tshirts are on clearance sale. No coupon necessary, prices are already marked down.
"Geek Friday" discount code. Any order (before S&H) of $10 or more gets to apply the code GEEKFRIDAY2012 for a 10% discount off their entire order. This coupon code is valid 11/19-11/26/2012, so get your geeky holiday gift shopping done, now!
20% OFF ENTIRE SHOP Use code: HOLIDAY Check shop for rotating sales.
Black Friday to cyber Monday is 20% off anything in my shop with coupon code BLACKFRIDAY12