Autumn Interlude
By Intricate Knot
"Keep the Jack O' Lanterns lit in solidarity".
~Twilight Faerie
Last season our heroes, esteemed members of the Great Holiday Making Tribe Fiddler and Wilbur, were traveling as fast as their spry kitty and wiry owly-raven legs would take them. They had to find out what had happened Crimson, last of the Winter Wizards. Had the ill-famed Diavex Clop coerced or worse yet, somehow turned Crimson from being the Magickal Mentor of Fiddler's youth into a Waywardly Wicked Wizard? Or had that wickedness lurked under Crimson's wise and benevolent exterior all along? I promise no answers in this installment, Dear Reader. There is a matter that must be undertaken first. Rushing headlong into a battle without all tools at your disposal would be foolish, indeed. And in case you hadn't noticed, neither Fiddler, nor Wilbur is foolish…
"Hang on a tick or two," Wilbur, the owly-raven halted in his black-feathered tracks.
Fiddler, being the most graceful of felines, stopped right alongside him,
"What is it?"
"Diavex doesn't like the cold."
"I believe we went through this already, Wilbur. What's your point?"
"We can't run in what is surely a trap of some sort without some sort of defense. Diavex is at his strongest and most devious and unrelenting evilness in this heat."
"And we," Fiddler swiped a black as coal kitty paw across his perspiring brow, "are not at our best. What do you suggest, friend?"
"I believe we need to make a stop along the way."
"Ah, of course, Vin Kaj."
And who, pray tell, is Vin Kaj? Why Autumn Pumpkin Wizard Extraordinaire of course, Silly you. No one is more suited to dissolving the heat of summer and putting in its place that snap in the air, that slight chill, and those thrilling goose bumps along one's arms and legs. And if while walking home at sunset you find the hairs tickling the back of your neck then you know for absolute certain that you've just been blown a kiss from Vin Kaj himself on the finest of Autumn days.
The twosome continued on their way, veering only slightly off their original course. They walked through a darker part of the Forest. Here the trees grew a bit taller than the rest of the Forest, and thereby cast deeper shadows. Naturally it was cooler here and a winsome breeze whistled his way through branches of trees, through the hedges, and stirred up a few fallen leaves, leaving them to dance along the way with Fiddler and Wilbur. Nearly as though they'd determined to join them in their quest. Perhaps they had.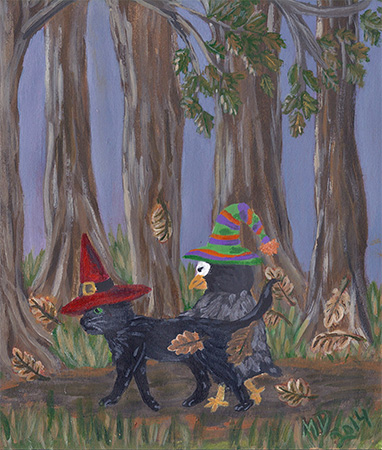 They heard him before spotting him. The sound of a sharp axe shrilled through the air. An axe? A sharp axe? Yes and yes. And our heroes didn't run in the opposite direction of that sound that seemed to harmonize with the sighs and grunts of what must surely be a perturbed Wizard or perhaps something even worse? Of course not, that's why they're called heroes.
He was tall, a good seven feet, at least. He towered over what appeared to be vapors…red-gold vapors, barely visible, but Fiddler and Wilbur could feel the burning heat from where they stood. The red-gold vapors appeared to grow hotter still…a formidable foe that seemed to press, surround, and lick at the great orange and green twiney, viney heels of Vin Kaj. Drops of sweat rained off the twisted vine that sat at the top of his pumpkin head. More deep green curling tendrils sprung and bounced almost joyfully from out his fingers and down at his toes, while he hacked, chopped, slashed at the waves of Summertime heat that continued to pour up through a long crack in the earth.
"Damn it, Summer. It's no longer your time. Why are you making me work so hard? We both know how this is going to end." Vin Kaj asked, sounding more curious than angry.
"It's Crimson," Wilbur answered.
In surprise, Vin turned to our heroes, his ax coming precariously close to the two. A sharp toothy grin split Vin's deeply orange face,
"Why it's Wilbur and Fiddler, rascally heroes to my rescue! I'm ever so glad to see you both!"
"Erm," Guiltily Wilbur glanced over at Fiddler, who twiddled his cat claws.
"Oh no, you see, Vin we-"
"Hmm, haven't come to my rescue at all, have you?" The Autumn Wizard said jovially, and then threw back his head whilst giving a great hoot of laughter, "then I'm even all the more lucky, aren't I? Because you've happened upon me when most needed."
"Well, you see," Wilbur began.
"We really need your help, Vin Kaj," Fiddler finished.
"Of course you do, but first things first. Summer needs to sleep now. He's being quite difficult this year and won't let me kill him and stuff him into the grave."
Our heroes merely blinked up at the giant wizard. Kill Summer? Why hadn't they heard it put this way before? They'd lived in the Forest a long time. They'd been around the block, so to speak, a time or two or three hundred.
"Kill Summer?" They asked in unison.
"Heck yeah! You don't think he just decides to exit quietly to make room for round, sweet apples, shivery spider webs, shorter days, longer chilly nights, and fat pumpkins, like me, do you?" He took one glance at their surprised faces and gave another chuckle. "I see you did. Frankly, I'm surprised at you two, both of you the very spirit and vim of Halloween! Well, we don't have time for a lecture I need your help, my fine fellows. You'll find a few axes just beyond that hill in the circle of Spook Trees." With that Vin turned his back and resumed his hacking, "I'm not really built for this sort of thing, you know," he said while straw and bits of vine flew out from his fingertips. "Generally, Crimson gives me a hand or at least a pinky's worth of a cool breeze. Can't understand where he is this year."
"Well-" Wilbur began.
"Well what?" Vin demanded. He stopped his hacking and looked at the two.
"Crimson, willingly or unwillingly is in league with Diavex Clop, which is why we're having this untimely heat wave."
Vin shook his head,
"If Crimson is helping Diavex then he is doing so unwillingly." Then he winked at the two, "Better grab those axes, fellows," and he turned back to battle those high temperature vapors.
Fiddler and Wilbur found themselves walking up the glowing, windy path to the Spook Trees.
"We can't leave Vin battling Summer back by himself," Fiddler said with a shrug.
Wilbur sighed,
"Yes, it sets us back on our quest, but this could help our cause all the same."
"True. Oh my."
"I'll second your 'oh my' and raise you a wow."
What a sight the two beheld! The glowing, windy path had led them to the dusky, most beautiful, and forbidding Circle of Spook Trees. These trees are tall, at least 20 feet or more and their graceful, gnarled branches stretch up toward an orange, pulsing light, which hovers directly at their center. Lavender pools of some sort of Magickal goop glimmered at their twisted roots and at the base of each jet black tree trunk lay a sharp axe, their blades glinting grimly, yet somehow mischievously in the smoldering light. Special axes meant for a special purpose: to chop the waves of Summer's worst burning rays.
"Hmm," they both hummed and each of them grabbed an axe. Fiddler grinned,
"Let's go kick some Summer butt."
"Sounds good to me," Wilbur agreed.
The two quickly joined Vin Kaj at edge of Autumn. Nothing like killing off Summer's miserable, sticky, careless heat to let off some pent up steam! And these friends certainly had some built annoyance. Diavex had eluded them, caused all the Forest much trouble, and now it appeared to have captured, coerced, or somehow turned one of the few remaining Forest's Wizards. He really was a most bothersome creature and this Summer was no picnic in the park, either. 'Enough already,' Fiddler thought while expertly swinging his shimmering ax at the wave of heat. 'Enough, enough, enough' Wilbur chanted in his head, whilst doing the same.
With one last heated shriek, Summer fizzled away, slipping through the crack at the edge of Autumn. Swiftly, Vin Kaj grabbed a handy headstone (just one of the many that hung about in this part of the Forest) and sealed old Summer in his grave.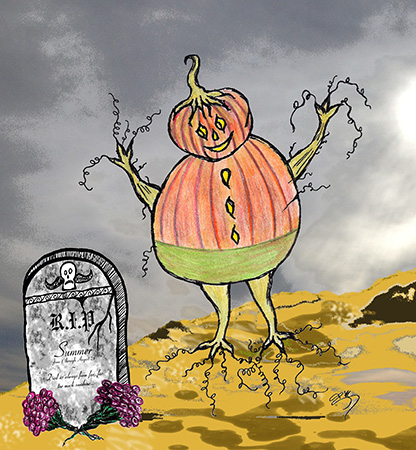 "Phew," they all said in unison.
Then with a grin, Vin Kaj swung his ax to rest on his broad, viney shoulder,
"It's no wonder at all that the leaves on each tree and the petals of every flower whisper heroic tales of you two. A Happy Halloween to you both, my fine fellows."
And with a renewed sense of energy and hope in their hearts, the trio now made their way to Diavex and Crimson.
To be continued next season!!

Illustration "Walking With Leaves" and "Spook Trees" by Angelique Duncan. Appearance of Wilbur with permission of Intricate Knot.
Illustration "Vin Kaj End of Summer" by Intricate Knot.
Intricate Knot is proprietor of Art For A Gloomy Day.Check out her artist page to find links to her shop and blog to read more of her writings. Visit again next season for more adventures of Fiddler the cat and his best pal Wilbur.