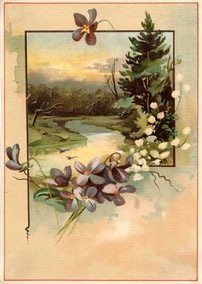 Along a Moonlit Path -By Debbi Decker
April brings thoughts of gardening. Spring has finally arrived and although there are still chances of cool nights, the days are longer and the sun is warmer. We spend time in the local nurseries picking out plants to put in our gardens and yards. After a long gray winter, we want color and we want it now.
Or do we? Some of us are not day people. We travel the nights and find our beds just after sunrise. While we are not vampires (at least most of us are not), we just prefer the darkness. Trouble is, that those of us night people who love flowers and plants miss the beauty of the gardens during the day. The vibrant floral colors fade away as the night falls.
We can fix that, however. By planting a moon garden. Imagine walking through a garden of highly scented flowers that glow in the moonlight. Intrigued?
All you need is an area that gets full sun to part shade, plants that are mostly white or silvery in nature, and also plants whose blossoms open as the sun goes down releasing their fragrance. If some illumination is necessary for walking safety, use lighting that is subtle and low key. White gravel will glow on pathways. Sketch out a plan so that you have an idea of the finished garden. Choose plants that will do well in your planting zone and know which ones will need to come indoors when the weather turns cold. Some plants are actually bushy while others hug the ground. You will want plants of various heights, as well as non-blooming leafy plants such as hostas and ferns, to create visual interest for both day and night. Colorful flowers that open at night to release their fragrance can be used at the ends of your moon garden or planted on their own in another area. Be sure to create a spot where you can simply sit and enjoy the fragrances on the night air.
Choose one or two of the below plants, fill in with flowers such as white candytuft, white or pale pink impatiens, lamb's ears, white lilies and other plants that bloom white or in pale colors. Be sure to have plants with staggered bloom times so that you have something in your garden blooming from late spring through fall. Add some subtle lighting, a scattering of statues or other ornamentation, and you are on your way to magical nights full of moon-lit beauty and intoxicating scents.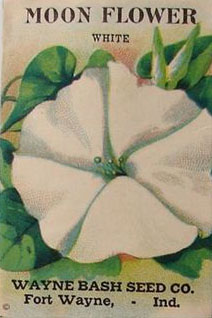 Night Jasmine (Cestrum nocturnum) Narrow tubular blossoms open at night and release fragrance.
Angel Trumpet (Brugmansia) Large white trumpet shaped blossoms also open at night and release fragrance.
Evening Primrose (Oenothera biennis L.) While this flower is yellow, it opens in the evening and stays open until late morning.
Four O'Clocks (Mirabilis jalapa) Colorful flowers that open in the late afternoon and release their fragrance in the evening.
Moonflowers (Datura) Large white blossoms that resemble their sister morning glories but which open at night and release their fragrance.
A word of caution. All of the above plants are toxic and/or poisonous if ingested, and some can cause skin irritation. Always do your research and know what you are planting. Monitor children and pets in the garden, and warn your guests of the nature of your plants. It's never a good idea for someone to accidentally ingest a berry or touch a noxious plant and then expire in the middle of all that glowing beauty . Unless, that is, your name is Lucrezia Borgia.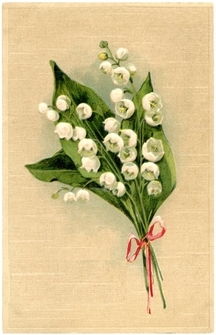 Debbi Decker is proprietor of Crazed Poppet Creations Art & Assemblage Emporium. Check out her artist page to find links to her shop and blog to read more of her writings. Visit again next month for the telling of hauntings and ghostly tales by Debbi Decker.