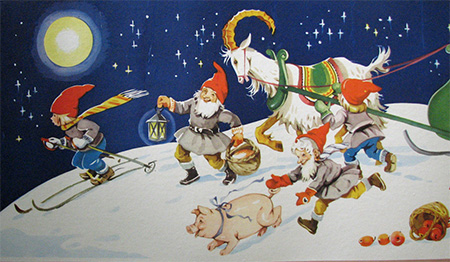 Origins of the Christmas Elf-By Angelique Duncan
Legends, traditions and stories about elves have existed for centuries. They find their first mentions in Norse, Scandinavian and Celtic folklore. However the Elves and their associations with the Christmas season is a fairly recent holiday tradition, becoming part of our popular contemporary culture of the United States only within the late nineteenth century.
As with many of the lost magical races; the Elves have shared traits and qualities that mingle with and confused with other enchanted species. Depending on the region and type of Elf, their descriptions and purposes vary. The imagery of Elves range from older bearded men to young and hairless, some have said they have eyes that glow when it is dark and some say they have one eye like that of a Cyclops. Consistently they are described as having pointed ears and being of small stature. Some legends say they are shape shifters and even capable of becoming invisible.
They are believed to be supernatural in their powers and capable of magic. Some believe that nature Elves have unique youthful beauty with slender bodies and narrow features. It is believed that Elves are ambivalent towards humans and may choose to help, sabotage or ignore them upon their whim. Most mythologies consistently tell of Elves as protectors against evil who guard over innocence, such as small children and animals and often bearing gifts.
In Scandinavian folklore the Elves are known as Tomte, Nisse, Tomtenisse and are often confused with gnomes. They are said to have long white beards, wear comfortable clothing or tunics and most always have a hat, usually of bright red or blue that is pointed or knitted. They are said to have pointed ears and eyes that can reflect light giving the illusion of glowing eyes. At tallest, reports say that they stand 3 feet, while some say they are of the same description but not more than 5 inches tall with smooth hairless faces and big round eyes, with four fingers
It is said that like gnomes or brownies that the Tomte live in barns or in hidden places within a homestead acting as a guardian over the home. They protect small livestock, pets and the children from any evil that may try to enter the family home. It was widely believed that the Tomte or House Elves are spirits of relatives who returned to help guide their family, some saying that they are the collective spirits of ones ancestors embodied as one small being as a reminder you are being watched over and protected.
When treated with dignity and respect they will help around the house and yard bring good fortune. It is customary to leave a bowl of buttered porridge out for ones Tomte as a sign of appreciation. Also it is common etiquette to always give warning when something is spilled or fallen to "look out below" to the Tomte as so they won't get hit or spilled upon. The Tomte reward their family with small gifts if they were considered worthy in virtue.
Tomte are offended by ill behavior such as swearing, laziness, crass or lewd humor and tackiness. They do not accept gossip or lies and absolutely will not tolerate disrespect or harm to animals. To do so results in retaliation. If witnessed by a Tomte or Elf he will fight to defend the animal. Many believed that a bite from a Tomte is poisonous and results in going mad and that the only method to heal such a wound is from a magical healing source.
Many would keep a small figurine or statue of a Tomte or Elf on their mantle or bookshelf to remind the household that their ancestors were watching and to invite the spirits or relatives in. However after the rise of Christianity the practice of leaving invitation to the spirits of deceased ancestors became frowned upon. The figurines were seen as keeping false idols and an invitation to the devils spirit. People began hiding the Tomte or abandoning them all together for fear of persecution. Some say that the Tomte and Elves went into hiding during this era, abandoning their homesteads and human families.
The Tomte were associated with the Winter Solstice and became the Swedish and Norwegian equivalent of Santa Claus. The Tomte were depicted often with or riding a pig or goat. The pig was considered a symbol of fertility and good luck and the goat was the Tomtes predecessor to the Yule holiday, known as The Yule Goat. Tradition had it that the Yule Goat would knock on doors delivering presents. It is thought that the Christmas gift bearing Tomte combined the two mythologies to preserve Pagan folklore of the ancestral spirits visiting the home.
Around the 1840's in Denmark the Tomte or Nisse Elves took on the name of Julenisse, a singular Elf-gnome like creature who is said to live in a forest and comes riding a goat door to door to deliver gifts at Christmas. With the rise of the Santa Claus tradition, Julenisse eventually replaced the Yule Goat and took on a more Santa like appearance in his depiction. Following with the tradition of the Tomte, it is customary to leave a bowl of porridge for Julenisse in gratitude for his gifts.
It was during the Victorian era that Elves became associated with Christmas in the USA, the United Kingdome and Canada. In the poem A Visit from St. Nicholas written by Clement Clarke Moore, St. Nicholas is referenced as an Elf. St. Nicholas gradually was replaced in popular culture by the jolly image of Santa Claus and there after Elves became popular in Christmas literature and imagery. The legends arose out the many stories and folklores of the existence of magical Christmas Elves that lived at the North Pole. They are usually described as very dainty with pointed ears and clad in green. The magical Christmas Elves are said to live in Santa's workshop as toy builders. They tend to Santa's flying reindeer, bake, and over see all things Christmas through out the year until Christmas Eve when the toys are delivered by Santa.
So perhaps the Elves find their place in Christmas through literature and fairy tales as the stuff of myth. Or maybe they are the spirits of our ancestors who try to protect us, unseen. The Elves, as we call them, seemed to have evolved from the Scandinavian Tomte traditions of long ago to find their way into popular European and American holiday culture.
There are those however, who believe that the Elves are real and still here, just in hiding. Studies done in Iceland in the last decade by the University of Iceland's Faculty of Social Sciences reveal that overwhelming as a nation, the Icelanders believe that ghost are among us and that the Elves, known as the huldufolk or hidden folk, roam the country side, hiding in rocks and caves safely obscured to most humans.
Perhaps they are still here and maybe once a year on a cold winters night they return to check on us. When you leave out the plate of cookies and milk for Santa Claus set out a little bowl of porridge with butter, just in case to invite them in and let them know you still believe.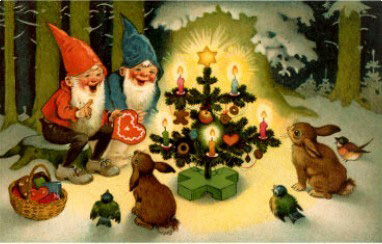 Angelique Duncan is proprietor of Twilight Faerie Nostalgic and Capricious Objects. Check out her artist page to find links to her shops and vintage inspired traditional holiday art. Visit again next month for more traditions and folklore.