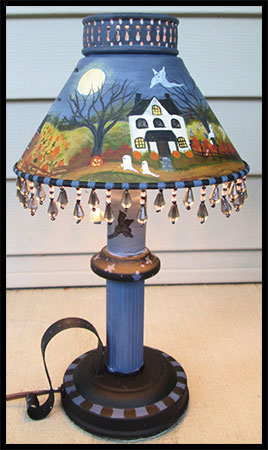 To find where Joy of Harvest Moon Studio sells her wares visit her on her artist page on HAB. 
Interview with Joy Parisi of Harvest Moon Studio:
Which pieces of your artwork are you most proud of, currently for sale or sold? Share an image of it if you have one.
My favorite piece is my reverse painted silhouette Halloween https://www.etsy.com/listing/202474519/original-painting-reverse-hand-painted?ref=shop_home_active_14 lamp.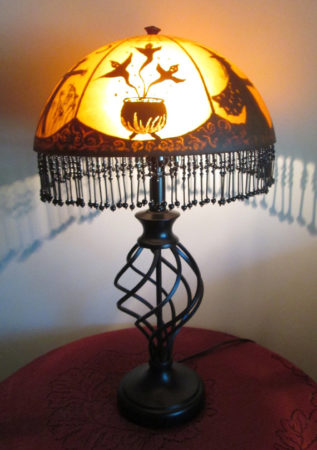 Name an artist(s) whose work you admire and what influence have they had on your art?
I grew up with Norman Rockwell and Grandma Moses. I really love folk art and vintage landscapes. I also like the work of Linda Nelson Stocks.
What would you consider the highest honor or greatest goal you would like to achieve with your art?
I recently had a customer give me a custom order. She had purchased a Halloween lamp from me about 10 years ago and told me that it holds a place of honor in her home. It is the first decoration to go up and the last to come down. It doesn't get any better than that.
What Halloween costume that you got to wear in childhood was your favorite and has the fondest memory for you?
I had a princess costume that was beaded and very ornate. I loved it!
What is your favorite Halloween icon? Why do you identify with its imagery?
I would have to choose a witch on a broomstick with her black cat on the back.
If money and wherewithal were not an issue, what would be your dream way to spend Halloween?
I would host a vintage party complete with costume and decorations. Back in the early to mid 1900's Halloween parties were huge. It's just not like that any more.