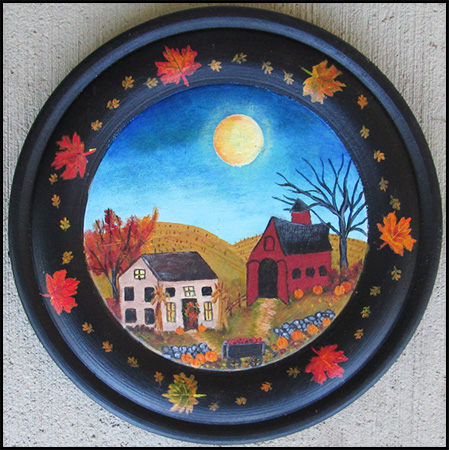 To find where Joy of Harvest Moon Studio sells her wares visit her on her artist page on HAB. 
Interview with Joy Parisi of Harvest Moon Studio:
At what age did you discover your love of Halloween?
I have always loved Halloween. I have so many fond memories from a very young age of dressing up and going to family & friends trick or treating. Also, the yearly watching of "The great pumpkin Charlie Brown" with my parents.
What is your fondest Halloween memory?
Some of my fondest memories of Halloween were when I was little, we used to have a Halloween costume parade and party at school. My Mom used to come in and bring home made chocolate Halloween decorated cupcakes with witches, bat, cats etc on them. Then we had trick or treating to look forward to after school.
How do you celebrate Halloween?
We would always have a Halloween party when I lived at home complete with decorations, costumes, bobbing for apples etc. As I grew and had my own family we would invite my kids cousins and friends over and I would make home made pizzas and cupcakes – all kinds of goodies and have a pumpkin carving party. Then we would all go out trick or treating. At the beginning of October we would watch a Halloween movie on Friday nights. So we pretty much would celebrate Halloween starting the beginning of October.
When did you start creating in your medium and what training have you had?
Always having a love of arts & crafts, I started at a young age with all different sorts of things. My parents found a Halloween picture that I had drawn some time in grade school recently so I guess I've been at it for a while.
I have been working with acrylics & oils for about 15 years and started selling Halloween stuff almost exclusively for about 10 yearsrs or so.
I have had minimal training along the way. Most of it has been all self taught.
What was the inspiration to create what you create when did you know
you wanted to create Halloween?
I started painting reverse glass lampshades with a family member – while she was doing florals I wanted to paint a Halloween scene. It just came naturally, it was something I just felt and wanted to do. So that is how I started and enjoyed it much more than the florals…