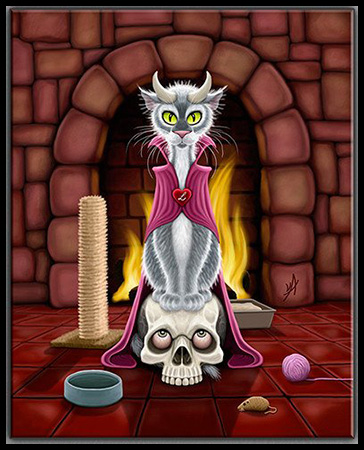 To find where Annie of Chaos In Color sells her wares visit her on her artist page on HAB. 
Interview with Annie Dunn of Chaos In Color:
At what age did you discover your love of Halloween?
I can't remember a time when I didn't love Halloween. We lived across
the street from a cemetery when I was a kid so from my perspective the
world was a little bit spooky all the time.
What is your fondest Halloween memory?
My parents used to give out fresh cinnamon sugar doughnuts at
Halloween. Each one came in its own little yellow bag with a twist-tie. I wish we could do that now but with so much fear about the
safety of Halloween candy, I think that people these days would be
suspicious of food that isn't store packaged.
How do you celebrate Halloween?
I decorate inside the house starting in September. Then on Halloween
we decorate the front yard and give out cookies. Last year we brought
out the Chaos Reaper in full costume to greet the trick-or-treaters.
That was a lot of fun. There was so much screaming. We'll probably do
that again this year.
When did you start creating in your medium and what training have you had?
I started digital painting in 2003 but I first started working with
computer graphics in 1985. In terms of artwork I haven't had any
formal training beyond a few drawing classes. Whatever skill I have is
mostly about time and practice.
What was the inspiration to create what you create when did you know
you wanted to create Halloween?
I think that macabre humor has always been my thing. I've had quite a
few people ask me if I could use my style to paint them something
"normal". These folks want more traditional landscapes and portraits.
There are so many artists who already do that, and it has never really
held my attention. I'm much more interested in things that haven't
been done before, or in things that are at the very least unusual. The
process of discovering something new while painting is what keeps me
motivated.
Annie