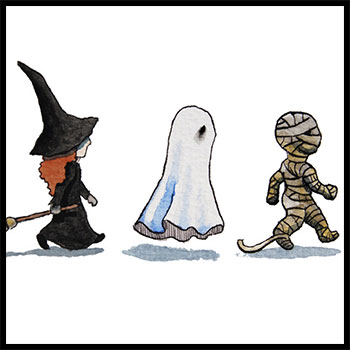 To find where Blake Roberts sells his wares visit him on his artist page on HAB. 
Interview with Blake Roberts of The Painted Peep Show:
At what age did you discover your love of Halloween?
Between my love of monsters, scary movies, and making costumes, I probably started leaning towards Halloween as my favorite holiday when I was 10 or 11.
What is your fondest Halloween memory?
I can't say I have just one, but a fond memory that's ongoing is my annual costume creation process. I spend weeks designing, building, and tweaking my costumes. This usually involves scary movies and multiple glasses of wine (or cider if the weather is cool enough).
How do you celebrate Halloween?
Every year, I host a costume party with custom props and special effects. Recent party themes have included 7 Deadly Sins and Psycho.
When did you start creating in your medium and what training have you had?
I've been drawing ever since I could hold a pencil. When I was very young, I'd make comic books, xerox them, and sell them to classmates for a quarter a piece. Since then, I've graduated with an Illustration degree from Savannah College of Art & Design.
What was the inspiration to create what you create when did you know
you wanted to create Halloween?
In 2009, I was laid off from my job and had trouble finding a new gig (this was during the height of the financial crisis). My sister suggested I open an Etsy store to keep myself active, so I did. I started with Halloween greeting cards and expanded from there.