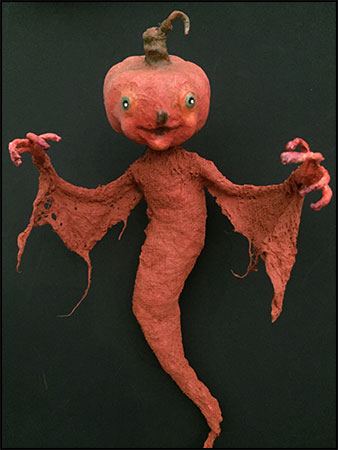 To find where Alecee sells her wares visit her on her artist page on HAB. 
Interview with Alecee of Creepycute Doll Works:
Which pieces of your artwork are you most proud of, currently for sale or sold? Share an image of it if you have one.
I am grateful for this opportunity to share my love of Halloween with my fellow Artists and Collectors. I love all of my works! I especially enjoyed making my conjoined twins, Justine and Elizabeth.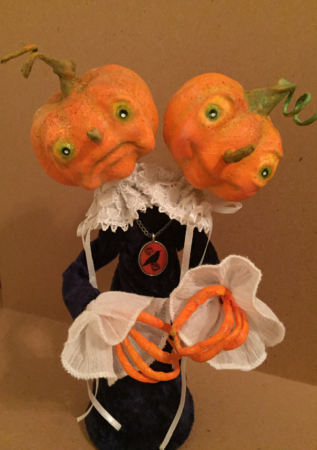 Name an artist(s) whose work you admire and what influence have they had on your art?
Although I appreciate many styles of Halloween art I am especially drawn to works with a vintage look, even more so if they are humorous. I am very fond of Kim Sherrod, her works always makes me smile. Following her on social media taught me that I didn't have to re-create Halloween to celebrate it! For that I am grateful. Leatitica of Merveilles in Papier introduced me to Mulberry paper. I am awestruck by the works of Sheila Bentley and Scott Smith!
What would you consider the highest honor or greatest goal you would like to achieve with your art?
I am honored each time someone purchases my work. When a patron leaves flattering feedback I am even more happy. That a patron takes time to shares their happiness is wonderful!
I daydream about being on the cover of Art Doll Quarterly or Prims Magazine. To be chosen to participate in The Spirits in Sanford Halloween Art Show is another goal.
What Halloween costume that you got to wear in childhood was your favorite and has the fondest memory for you?
I once made myself a costume of the Esso/Exxon Tiger, I can still recall coloring in every black strip. Before that, all my costumes were from the 5&10, a discount store! More important to me were the fantastic costumes I would sew for my children.
What is your favorite Halloween icon? Why do you identify with its imagery?
Obviously I love pumpkins! Obsessed! I have found ways to turn them into ghosts, witches, skeletons and vampires. Perhaps I adore their versatility!
A Pumpkin is All Things Halloween!
If money and wherewithal were not an issue, what would be your dream way to spend Halloween?
Thank you,
Aleece