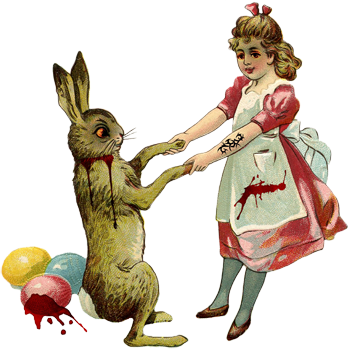 A Gothic Easter Celebration -By Debbi Decker
A Gothic Easter Celebration
With the coming of March, spring arrives and along with spring comes Easter. Although I have yet to meet anyone who does not love a sweet little bunny, there are those of us who are not into all the pastel colors and sugary sweet images and decorations that usually go along with Easter celebrations. And since many of us embrace the darker side of life, Easter leaves us feeling a bit…. left out. While pondering what I would do for Easter that would more align with the kinds of decorations that I like (think Halloween, Goth, Steampunk), I came up with some ideas that I wanted to share with all of you. This will be a two-part series. The first part, this post, will be about decorations and an activity that you and your dark buddies will love. The second post, which I will bring you in April, will be about the food and a wonderful surprise activity for after the meal.
So we know we need to decorate. This is where you get all your chipped and tattered items that could echo Easter and spring. That stuffed bunny or grungy lamb missing an eye or its fur could be gussied up with a lovely ribbon and set in a chair. Chipped tea cups in all those yucky pastel colors can be filled with mosses, a miniature tombstone and some tiny silk flowers, or fill them with black jelly beans. Pair them with some old stained lace gloves or doilies and place them around on side tables. Pale purples and greens are wonderful paired with old gold or rusted tins, tools, horseshoes, etc. Raggedy ribbons in lemon yellows and dusty pinks can be used to tie bows on candelabra, or as a hair accessory for that creepy looking doll that would look wonderful in that chair holding an old Easter bunny tin. The idea is to pair the tattered, spooky and macabre with the more traditional Easter items and colors to give it a Gothic or Steampunk flair.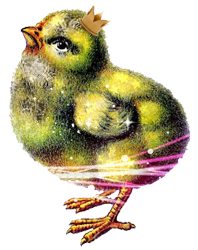 I am in love with Peeps. Those little marshmallow rabbits and chicks can be used in so many different ways. Get some colored gel frosting in tubes and go to town! Use the red to create blood dribbles and have a zombie rabbit army marching down your table. Or turn the little chicks into sugar skull birds using the gels to make elaborate designs. You could create a monster theme and have your Peeps wearing costumes and put them in a haunted house themed diorama. Really, the sky is the limit when it comes to Peeps! Surround them with gaily colored eggs or egg-shaped candies on a tray and you have your table centerpiece!
Everyone knows that when you put on a bunny mask, the creep meter goes off the charts! Hit the craft and dollar stores, stock up on supplies, and then invite all your friends over for a mask making event! Rabbit masks are fun to make, and you and your friends can go all out with whatever material on hand. After everyone has finished making their masks, invite your friends to an Easter celebration to be held on a later date! Ask them to dress in their favorite style of clothing or costume and tell them to bring their masks to the event. More on this in my April post.
These are just a few ideas to get you started. Be sure to check back here in April for the second half of this post!
Debbi Decker is proprietor of twistedpixelstudio Art & Assemblage Emporium. Check out her artist page to find links to her shop and blog to read more of her writings. Visit again next month for the telling of hauntings and ghostly tales by Debbi Decker.